Bankside Cuisine | Sticky Teriyaki Salmon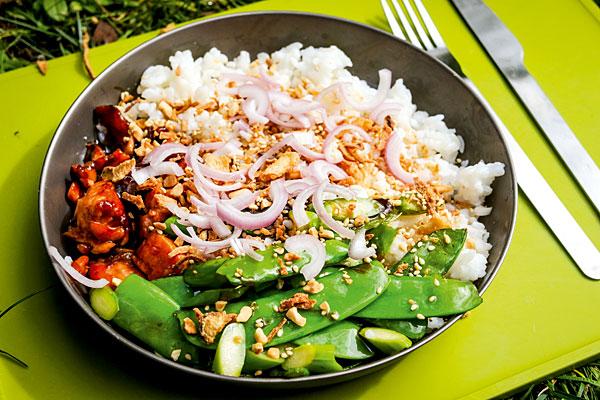 No, its not flavoured with Krill or Manilla…its the sticky Teriyaki glaze that makes this Salmon dish super tasty!
Japanese dishes are full of fresh, vibrant flavours and even better they are really quick and easy to make.
If you aren't so fussed about presentation, you can even make the entire dish in just one pan too, minimising the clean up.
We've used sesame oil in this recipe as it gives a really authentic taste and aroma, but feel free to use whatever oil you have in your food bag.
The ITSU kit comes with enough ingredients for two, so if you're sharing meals (or you're just really hungry), add a second salmon steak plus some additional greens and there will be plenty to go around!
Serves: One-Two
Difficulty Rating: 5/10
You'll Need: Ridgemonkey Deep Fill Toastie Pan
Ingredients:
• ITSU teriyaki meal kit
• Salmon steak (other protein sources work just as well!)
• Mangetouy
• Asparagus
• Eschalots or spring onions
• Oil (we used Sesame)
Home Prep: Slive veg
Method:
1. The ingredients you need.
2. Add a little oil to the pan.
3. Place the salmon steak skin down in the pan.
4. Once well crisped, turn over and remove the skin.
5. Break the salmon up into chunks and add Teriyaki schet.
6. Heat through until it thickens into a glaze.
7. In the other pan, stir fry your greens so they remain crunchy.
8. Heat the microwave rice through in a little oil or water.
9. Sprinkle the sachet of nuts and seeds onto the dish.