Bankside Cuisine | Chicken Massaman Curry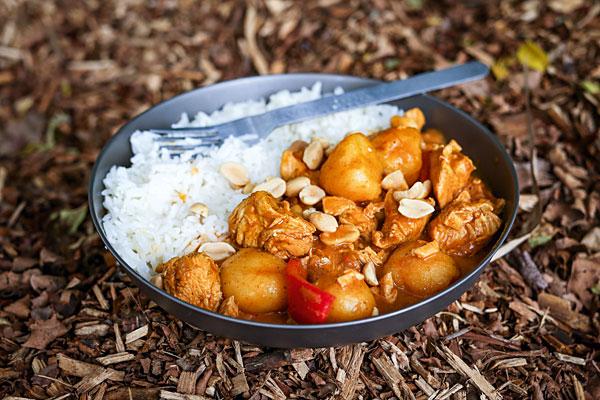 A little more complex to cook but putting in that extra effort really does bring its reward! This recipe is a classic Thai dish, a mild curry which is packed full of flavour and spices. Massaman paste contains ingredients such as cardamom, cinnamon, cloves, star anise, cumin, nutmeg, chilli peppers, coriander, lemongrass, garlic and much more for a real depth of flavour… thankfully you don't need to buy all those things, just grab a ready-made paste from a quality supermarket! However if you can't find it, try a generic Thai Red Curry paste as a good alternative.
Serves: One-Two
Difficulty Rating: 7/10
You'll need: RidgeMonkey Connect multi-purpose pan
Ingredients:
• Diced chicken (or alternative protein source)
• Massaman paste
• Coconut milk
• Tinned new potatoes
• Red pepper (sliced)
• Peanuts
• Lime
• Rice (we love this sticky coconut rice!)
Home prep: Slice and dice your ingredients if bought whole!
Method:
1.Everything you'll need for a delicious Massaman curry!
2. Add a couple of spoons of curry paste to your saucepan.
3. Heat the paste for a minute or so until the spices aromatise.
4. Add your protein portion – we used diced chicken.
5. Stir in to evenly cover with curry paste.
6. Add some sliced red pepper.
7. Canned cooked new potatoes give the curry some body.