Bankside Cuisine | Roast Dinner Yorkie Wraps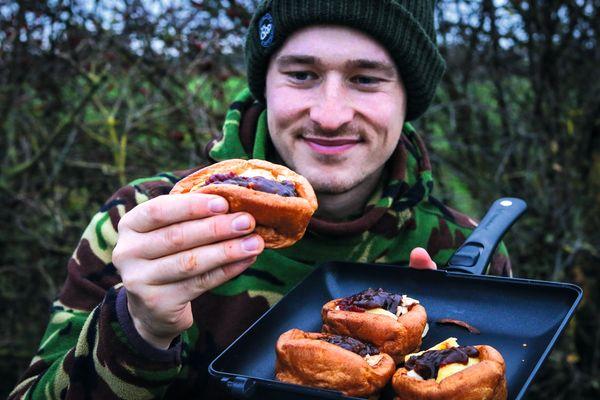 If you indulge in a good old Sunday roast, what happens to all the leftovers? Why not finish them off by cooking a few extra Yorkshire puddings and making some handy bite-sized Yorkshire pudding wraps when you get out on the bank during the colder months?
We've used supermarket ingredients for demonstration purposes, but whatever leftovers you've got will do just fine: turkey, pork, red cabbage, carrots, beef, roasties, parsnips… the list is endless!
Alternatively pick up some ready-to-make ingredients from the supermarket.
Serves: This depends how much you leave on Sunday!
Difficulty Rating: 5/10
You'll need: RidgeMonkey XL Toaster or Connect Combi pan
Ingredients:
• Yorkshire puddings – home-made or ready-made
• Xmas leftover meat and trimmings (meat, potato and veg)
• Gravy – good old Bisto does just fine
• Condiments – cranberry sauce for turkey, horseradish for beef
Home prep: Try not to overeat the goold old Sunday roast!
Method:
1. Christmas leftovers or ready made ingredients.
2. Pop the potatoes into the pan and start frying.
3. Turn potatoes and flatten to speed the cooking process.
4. Add the turkey slices to the pan…
5. … keep turning until cooked evenly.
6. Put Yorkshires in pan and fill with the hot ingredients.
7. Close the lid and heat through, then open lid to crisp up.
8. Meanwhile, make your gravy.
9. Add any condiments such as cranberry sauce…
10. … and spoon on the thickened gravy.