Bankside Cuisine | Spicy Jamaican Chicken Curry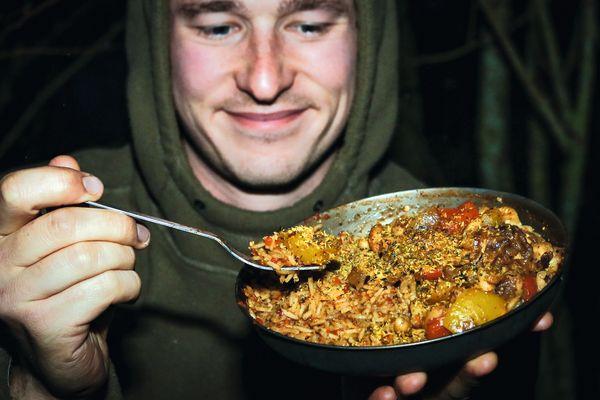 If you like your flavour with a bit of heat and spice then this Jamaican chicken curry may well be just for you. It's sure to warm you up on the banks even in the depths of winter! I made it while on the bank with Luke Vallory and he was keen, as always, to sample the delights of Bankside Cuisine – it certainly got the thumbs up from him!
Cooking over two stoves makes this dish a little simpler due to the spiced rice, however a Connect Combi Pan would also be an easy way to cook the rice separately over a single stove.
Serves: Two
Difficulty Rating: 5/10
You'll need: RidgeMonkey Connect Combi pan, or a deep fill toastie maker and second pan for the rice
Ingredients:
• Chicken (we used thigh fillets for tenderness)
• Jamaican Spicy curry mix
• Peppers
• Onions
• Beans (I prefer cannellini beans, but red kidney beans work just as well)
Home prep: Dicing the peppers and onion at home means one less thing to do on the bank
Method:
1. Everything you will need.
2. Add some oil to the pan...
3. ... add the diced onions to the pan...
4. ... heat on a low heat until slighly browned.
5. Add the chicken thigh fillets and close the lid.
6. Once the chicken is browned, add the jamaican curry paste.
7. Stir to coat the chicken then add some water.
8. Cook until the meat is cooked through.
9. The chicken can then be cut up or left as fillets.
10. Add the diced pepper to the pan...
11. ... followed by the beans.
12. Cook up the spiced rice, then serve.