Bankside Cuisine | Chicken Stew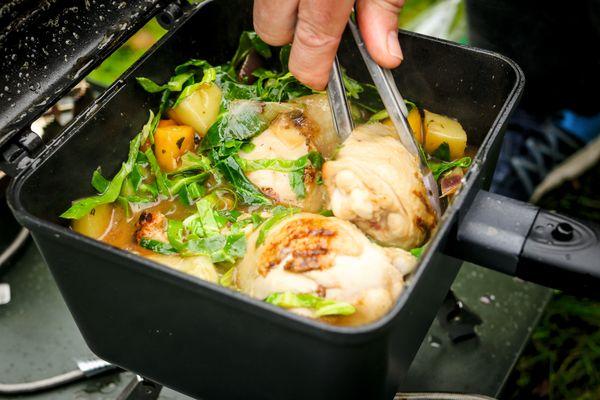 A hearty chicken stew that is sure to be a real winter warmer. No need for home prep and you've got a real feast for you and a fishing companion.
Serves: Two
Difficulty Rating: 2/10
You'll need: RidgeMonkey Multi-Purpose Pan
Ingredients:
• 8 chicken thighs
• 1pkt ready cut stew vegetables
• ¼ pack fresh thyme
• 1pkt chicken stew or casserole spice mix
• 50g ready cut spring greens
Home prep: None!
Method:
1. This will make a heartwarming stew!
2. Add the root veg to the deep pan.
3. Pour over the chicken casserole seasoning mix.
4. Add water until the veg is covered.
5. Stir in the seasoning and bring to a gentle simmer.
6. Brown the chicken thigh fillets on the griddle pan.
7. Once sealed, place the thighs into the casserole.
8. Attach the griddle pan, close and simmer until chicken is cooked.
9. Once cooked add a few handfuls of spring greens.
10. Stir in and cook for a further two minutes.