Bankside Cuisine | Miso Chicken Ramen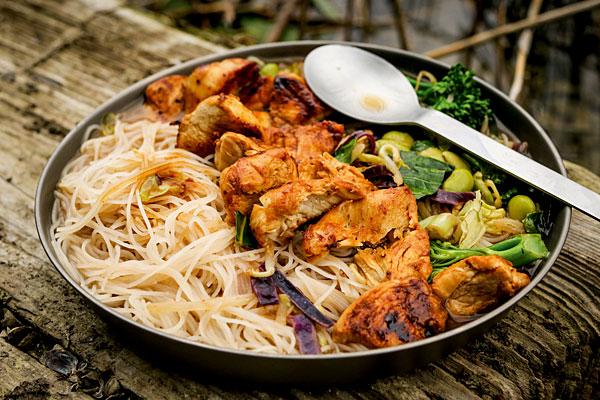 A hearty noodle broth inspired by the tastes of Japanese cuisine, the Miso Chicken Ramen is delicious and filling. A RidgeMonkey Connect multi-purpose pan makes this really easy to cook, allowing you to fry the chicken off in the griddle pan separately. However, it's just as easy to cook in a single wok or even a mess tin!
It's also easy to swap the chicken out for any combo of meat or tofu!
Serves: One
Difficulty Rating: 3/10
You'll Need: RidgeMonkey Connect multi-purpose pan
Ingredients:
• Diced chicken (or other meat/tofu)
• Stir-fry veg
• Squeezy ginger
• Rice noodles
• Instant miso paste
• Soy sauce
• Half a lime (optional)
Home Prep: Dice meat if bought whole
Method:
1. Everything you'll need for a delicious Ramen…
2. First, fry the chicken in oil and soy sauce.
3. Add oil to your saucepan and heat up…
4. … heat through the veg, stirring regularly…
5. … add a little ginger paste…
6. … then add the rice noodles and fill pan with water…
7. … add your miso paste…
8. … stir in and cook until noodles soften.
9. Plate up and drizzle with soy.