THINKING ANGLERS | Noodle & Curved Kickers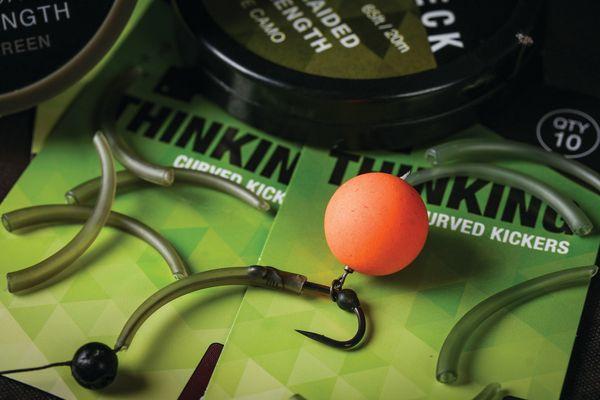 Until recent times shrink tube has been the only item that we carp anglers could use to create an extension of the hook, therefore aiding flipping. However, in recent years preformed kickers have sped up the rig tying process, removing the need for boiling water. The release of the new Thinking Anglers range of kickers further expands the range of rigs that can be created without the use of shrink tube, with two distinct patterns.
The first of the two kickers have been designed on the basis of Scott Lloyd's trademark noodle rig, a bottom bait/wafter style rig so successful for himself, and now it can be for others too! Creating the perfect angles for this rig can be a tedious task, but the hard work has now been done for you by the team at TA. Now the kickers are permanently set for the very best hooking potential once inside the carp's mouth. There are two different sized Noodle Kickers to choose from including the Medium and Large. The Medium kickers are best suited to size 6 and 7 hooks whereas the large are ideally used with size 4 and 5.
Thinking Anglers has also taken the opportunity to create a kicker that is suited for use with a pop-up presentation and what better rig to base their creation on than the notorious Withy Pool rig? With these curved kickers your buoyant pop-ups will be sitting poised and ready to grab hold of any passing fish. Many find achieving such a beautiful flowing curve difficult with shrink tubing but with a packet of these in your armoury previous frustrations will be a thing of the past.
What is so great about the Thinking Anglers new Kickers is that they are incredibly durable and can be reused many times before a new one is needed. Whatever your preferred choice is, each variant of Kicker is supplied in packs of 10 and are available in Thinking Anglers' own brown or green. All that is needed is for you to simply tie on your hook using your preferred method, slide on your chosen kicker, cast out and await the results!
RRP: £3.99
WEBSITE: www.thinkinganglers.com