CARP SPIRIT | Medium Curve Hooks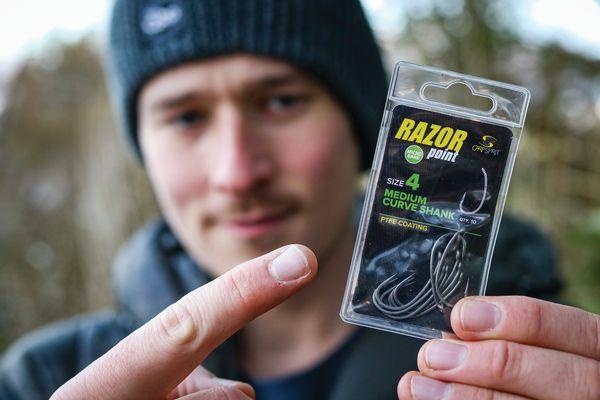 Hook choice is probably one of the most particular and carefully made choices many anglers will make. It's the very thing that connects us to our quarry and plays a huge part in whether a fish gets hooked in the first place, and then whether it is eventually landed! As such, confidence in a certain pattern of hook really does play a crucial role in keeping a level head when fishing.
Since I first picked up a packet of the Carp Spirit Razor Point hooks, I was immediately impressed and knew they would form a part of my angling approach from that moment on. An impeccably crafted hook, finished in a smooth grey PTFE coating and most importantly of all, a fine and razor sharp point. This was the real seller for me; the long fine points were sticky sharp straight out of the packet, meaning I would be happy to use them without the need to sharpen.
I still regularly sharpen many hooks, and will continue to do so, but in certain situations a sharp hook straight from the packet is a much more reliable option. It seems some lakes and even spots are extremely corrosive and even with a coating of Vaseline or similar, the sharpened hooks just crumble to a blunt stub in no time at all. A hook straight from the packet ensures the point remains sharper for longer, improving the chances of a hooked fish.
One particular pattern that has become a firm favourite is the Medium Curve, synonymous with the use of Ronnie rigs. These hooks really are the perfect shape in my opinion, creating a long stiff hook section that the carp will find very difficult to deal with. I personally use them with a slip-D presentation, both for pop-ups and also wafters when used on a slightly altered version tied directly to the swivel.
RRP: £various
WEBSITE: www.carpspirit.com
Matt Townend's Verdict: "Exactly as it says on the packet – Razor points! These hooks are sticky-sharp straight from the packet."