STICKY BAITS | Manilla Active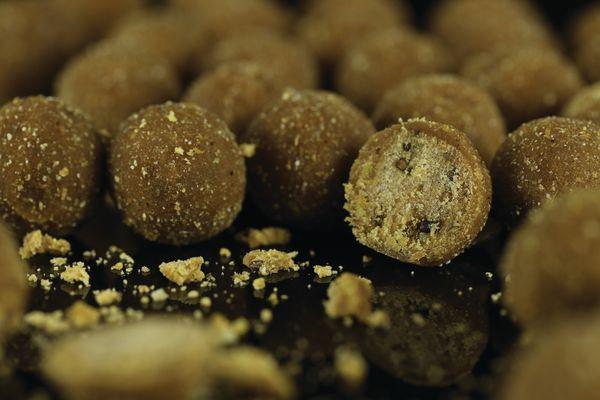 Since the advent of the Krill Active, it's fair to say it has held its own in the saturated bait market and secured itself as one of the best baits of all time. The concept of a super-soluble paste wrap is clearly a welcome one, and ever since its release the guys at Sticky have been inundated with questions asking when the next Active bait will be released! Well, the time has come; enter, the Manilla Active!
We spoke to the big boss at Sticky, Tom Anderson, to see what all the hype is about!
"The original Manilla was formed to fill a much-needed gap in the market. There was a clear space for a highly nutritional bait that was made without the use of marine derived proteins. We searched long and hard to find a suitable base mix and selection of liquids that would complement each other but also provide the carp with everything they need. We settled on a combination that is good enough for us to eat ourselves! A beautiful Madagascan vanilla extract gives the baits a smell to die for, while a perfect combination of milk and defatted peanut proteins add plenty of nutritional benefits.
"Manilla has accounted for so many carp since its release back in 2016 that it's hard to even imagine how we could possibly improve one of the greatest non-fishmeal baits ever. Of course, the only way we could see was to give it the Active treatment!
"For those unfamiliar with our Active range, it's boilies but taken to a new level. Each individual bait comes with its own super-attractive paste jacket, which breaks down on impact with the water, forming a halo of attraction around each one. This just adds a whole new dimension to your baited area, as the ingredients used are extremely soluble and mega attractive.
"Of course, the Manilla Active doesn't contain the same ingredients as The Krill, so it has a bespoke coating that's tailored to suit the inner boilie at the core. Due to the nature of Manilla, it took a hell of a lot of effort to get the coating right too. Anyone who has rolled their own baits will know how temperamental milk proteins and nut meals can be! We also wanted to make sure it was perfect for use year-round; ensuring the coating would break down in even the coldest of water was an absolute must.
"After a couple of years' worth of trial and error, we finally have the finished product. The coating is of a perfect consistency and isn't sticky to touch, yet breaks down when submerged. Even down to practically sub-zero temperatures, Manilla Active still reacts with the water and produces that telltale halo of goodness around each bait.
"Included in the coating is a unique and completely bespoke liquid, which uses matching attractors used in Manilla boilies, along with a few added secrets. The liquid is drawn into the bait, giving a prolonged leakage of attraction after the paste has broken down. Attached to the sticky surface that the liquid leaves behind is a carefully selected blend of powders that create a smooth, even skin around the boilies. Once the liquid and powder meet, they form a paste, which leaves a small patch of fine ingredients around the boilie on the lake bed."
Based on the success of the original Manilla, and people's love of the Krill Active, we expect Manilla Active will also be a huge hit, for both anglers and carp alike! As with any new range, it wouldn't complete without a bespoke set of hook baits to do their intended job perfectly and Sticky has spent a lot of time and research creating a set of unique hook baits that compliment the boilie perfectly. Once again, using a secret blend of liquids and powders, they have both Manilla Active Tuff Ones and wafters for those looking to 'match the hatch' in their angling situation.
As with Krill Active, Manilla Active will only be available in freezer variety, in sizes 12mm, 16mm, 20mm and 24mm in 1kg and 5kg (24mm only available in 5kg bags).
Manilla Active Hook Baits
Tuff Ones – 16mm & 20mm. RRP: £6.50
Wafters – 16mm & 20mm. RRP: £6.50
12mm 1kg – RRP: £13.49
16mm & 20mm 1kg – RRP: £12.99
12mm 5kg – RRP: £52.49
16mm, 20mm, 24mm 5kg – RRP: £49.99
WEBSITE: www.stickybaits.com