CC MOORE | Marine Amino 365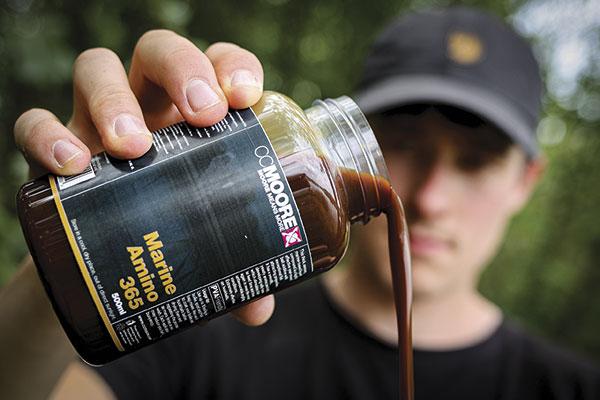 Using liquids in your bait has been game changing for those who have taken the leap, totally transforming catch results throughout a season. Choosing the right liquid is just as important as the application itself, and should you be searching for a year-round, highly attractive soluble liquid then you are in luck.
CC Moore's Marine Amino 365 is a beautifully versatile product that can be used on virtually any bait you wish, providing an enhancement in pulling power towards a baited area. Not only is the liquid high in natural salts, it boasts a number of essential amino acids and hydrolysed proteins that trigger an outstanding feeding response.
Being slightly acidic with a pH level of 5.5, carp will be instantly drawn to the fishy yet slightly sweet tasting solution. The viscosity of the Marine Amino 365 lends itself perfectly to soaking bait and loose feed prior to a session, whether it be boilies, particles or PVA bag mixes. The product is also PVA friendly. Once immersed into the water it will release an almighty cloud of savoury attraction that no passing fish could possibly ignore! It will hold around the bottom of the lake bed until disturbed, releasing more plumes of attraction and therefore gaining the confidence of feeding fish.
Supplied in a choice of 500ml or 2-litre bottles this thick marine liquid is specifically great for curing baits, helping to keep them as fresh as they can possibly be in warm weather conditions. Should any bait be left over from a session you can freeze already soaked baits, maybe even apply a little more liquid before freezing as this will be absorbed tenfold when defrosted for the next session.
RRP: 500ML £11.99 / 2L £35.99
WEBSITE: www.ccmoore.com