CC MOORE | Session Packs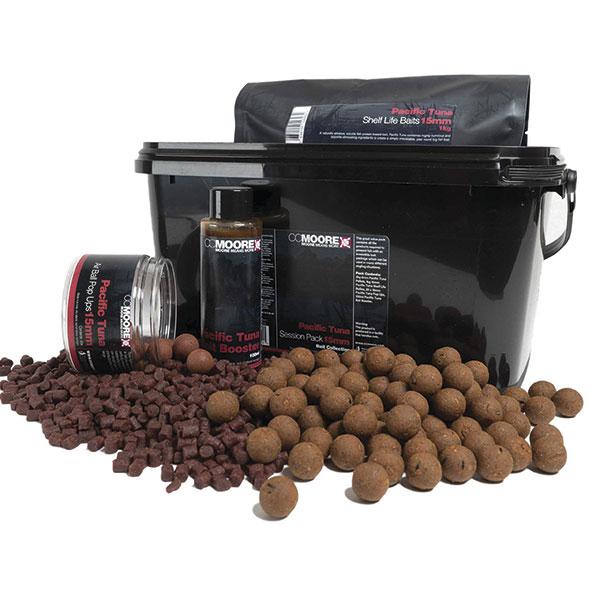 When time is of the essence we as anglers need everything organised and ready to go at the drop of the hat. This includes our bait too and sometimes preparing fishy food items for a trip can also require time investment, even for a spontaneous trip. Leaving for the lake unprepared is not an option so this is where CC Moore's fantastic Session Packs come into play. Not only are these great value for money containing everything you could possibly need for a session to put several fish on the bank, they are of a high quality also.
For just £25.99 you receive 1kg of shelf life boilies, 10 matching pop-ups, 100ml of bait booster and 2kg of 6mm pellets. All of which are supplied in a cool sealed black bait bucket to keep everything as fresh as it can be. There is also a choice of a 15mm or 18mm packs, which will be reflected in the size of the food baits and pop ups.
CC Moore's Live System's long standing creamy, milk protein, bird food based, low oil boilie range keeps on giving throughout the year. Pacific Tuna is also another stand out CC Moore creation that sees many big and beautiful carp sulking in landing nets year in year out. The unique blend of Robin Red and tuna extracts formed into a highly soluble digestible bait for year round use is just the ticket for those who have a preference for a fishy food source. Whatever is thrown your way during a session you can have confidence that these session packs will see you through.
Keep these loaded bait buckets cool in the boot of a car as your main feed or even as a back-up supply for overnighters, maybe even short sessions and see your results soar!
RRP: £27.99
WEBSITE: www.ccmoore.com