DT BAITS | Supa Fruit Boilies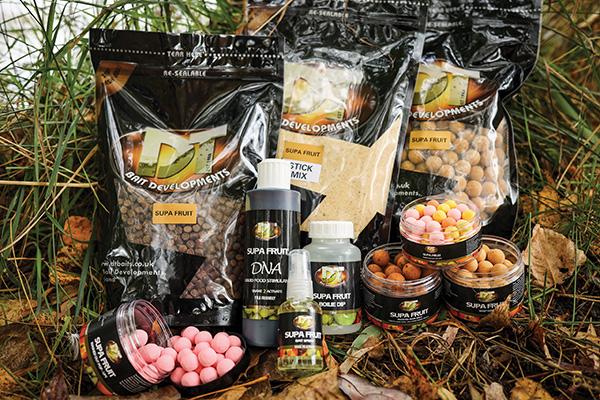 When water temperatures start to drop the need for a low oil content bait is usually the order of the day and this is where DT Baits and its own Supa Fruit Boilie come into play. Being predominantly a milk protein base mix with a touch of tiger meal present you will inevitably have a bait that is light cream in colour. Small chunks of tiger nut can even be seen in the bait when crumbed!
A benefit of being a milk protein mix is that flavours are readily accepted and boast a punchy aroma even after the boiling process. The Supa Fruit boilies flavour came to be through combining Sweet Damson and Soured Cream, which give off an initial luscious plum scent, backed up by a tantalising dairy backnote. The boilies themselves are very soft, highly digestible and extremely nutritional, where application is equally effective through a baiting campaign or casual use. DT's Supa Fruit boilies are available in both a freezer bait and shelf life in either 15mm or 18mm in pack sizes of 1kg, 5kg or 10kg respectively and are supported by a number of additional products in the range.
There are three different choices of pop-up available and these are constructed using light viscosity liquids allowing for optimum attraction to flow freely throughout the water column. With that, the matching Supa Fruit 15mm pop-ups are the order of the day when bites can be hard to come by. DT Baits also supplies washed out pop-ups in pink or a mixture of orange, pink as well as yellow, available in 12mm and 15mm. Wafters are also an important part of the range as these matching or pink hook baits will perfectly negate the weight of your chosen hook. The Supa Fruit range also features Hard Hookbaits that will deter almost all nuisance species and the Boosted Hookbaits have been lovingly cured in liquid foods.
DT's matching boilie dip is great for soaking baits prior to a session and this is supplied in 150ml bottles, whereas the potent fruity bait spray is an intense liquid that is perfect for single hook bait fishing. The Supa Fruit DNA is a most impressive active liquid food stimulant that has a floating and sinking component combined with the unique flavour, which effortlessly draws attention from around the lake. In terms of dry products, there is also a highly nutritious Supa Fruit stick mix and matching 3mm or 7mm pellets, which can be obtained in one size as well as mixed. Those who like to make their own boilies are also in luck as it is possible to get your hands on the Supa Fruit base mix directly from DT Baits.
Supa Fruit Boilie Range RRPs;
Freezer and Shelf Life Boilies: £12.35 to £79.90
Pop Ups: £6.60
Wafters £6.97
Boosted Hookbaits: £6.50
Hard Hookbaits: £4.95
Bait Spray: £5.99
Boilie Drip: £7.42
DNA Feedstim: £10.99
Pellets: £4.39 to £19.57
Stick Mix: £8.49 to £23.91
Base Mix: £8.49 to £12
WEBSITE: www.dtbaits.co.uk