AXS SHELTER
£179.99
Not everybody likes to use a bivvy, even in challenging weather conditions; some like to see what is out in front of them at all times as well as carrying lighter kit, making the process of moving far easier. The AXS Shelter is what you could say is a step down from the Bivvy, while still making use of a number of features which are found in it.
Sharing the same sturdy frame, the Shelter weighs a mere 5.1kg, thanks to a lack of groundsheet and the zip-on/off front. However, it still features the front zip, should the front need to be added at a later date converting it into the full bivvy setup. The shelter still retains the two large rear mozzie vents and internal pockets, very handy for storing a number of items that need to be at hand, along with the fantastic fabric used on the AXS Bivvy.
With an internal space of 260cm x 150cm and the flat back design, you can be confident of housing a large bedchair and plenty of luggage for a long-stay session without the fear of getting rained in.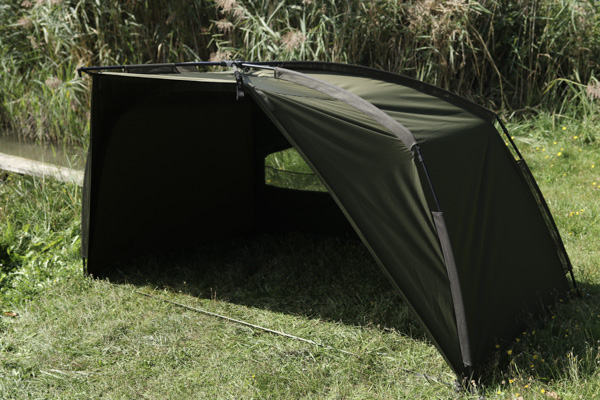 AXS BROLLY
£129.99
The AXS Brolly is a barebones addition to the range, representing incredible value for money while still sharing many of the key benefits of the AXS frame system. Thanks to its lighter 5000mm 210D fabric, the AXS Brolly weighs in at a mere 4.9kg, while still retaining that strength, stability and ease of use offered by the AXS centre hub construction.
As with all of the systems in the AXS range the brolly makes use of the flat back and steep sides, further maximising space inside. Any bedchair can be tucked in out of the way and should heavy rain be forthcoming the likelihood of getting the sleeping equipment wet is slim to none. Plus you no longer need to worry about hitting your head on the underside of the brolly spokes!