CARP SPIRIT | Arma Skin Speed-R Brolly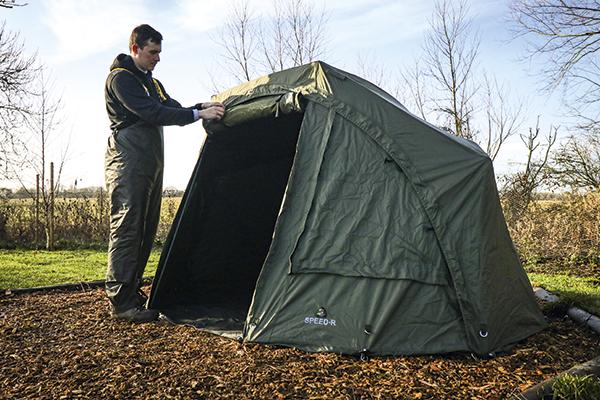 Staying mobile and chasing the carp around a lake is an exciting way to fish; in fact, catching one after a move or two can be incredibly rewarding. This is helped when tackle is scaled down; however, not everyone wants to live their lives hunched under a 50in brolly! Step in the Carp Spirit Arma Skin Speed-R – a BIG brolly that is BIG on features. It's the perfect choice for anglers looking for a larger shelter, while retaining the ease of setting up and packing down that a brolly system affords. Measuring 290 centimetres in length, 150 high and 230 deep, it will easily accomadate the largest of bedchairs, with plenty of room for all of the necessary luggage items for a session.
This almighty piece of kit is a workhorse and can be used year round in all weather conditions thanks to its rugged build and extensive features. The special internal fibreglass rib design increases headroom, strengthens the structure and also slightly reduces the overall pack-down size for such a large brolly.
The Arma-Skin material is extremely durable, with excellent breathability to reduce as much condensation as possible. A hydrostatic head rating of 10,000mm means that even in biblical downpours you will be free from any moisture inside the Speed-R. In use any rain will simply bead on the material and run away effortlessly.
For the late spring and summer months the front face will more than likely stay in the carry bag, giving a better view of the lake in front, but when adverse weather makes an appearance it is amazingly quick to install by simply zipping on. The Speed-R makes full use of a three-layer front system, including clear and mozzi mesh door and window options to deter the bloodsucking blighters. There are also additional mozzi mesh windows on the rear should further ventilation be required in hot weather.