WYCHWOOD | Tactical Brolly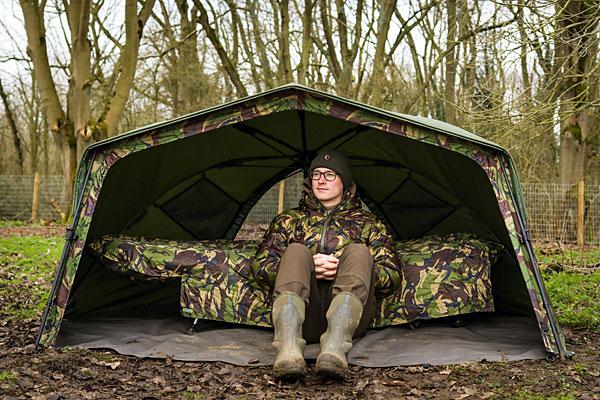 Brolly systems have come a long way since the simple oval design that were used by anglers up and down the country for decades. This latest addition from Wychwood is perhaps one of the most compact, yet feature-packed offerings we have seen, making it an ideal shelter for the lightweight brolly enthusiast!
This compact seven-rib brolly design is a fantastic lightweight and protective option, particularly suited for short sessions and mobile anglers, though it would no doubt appeal to some longer stay anglers who require a minimalistic approach. With a clever flat back design, the Tactical Brolly System allows the angler to maximize the internal usable space by tucking their bedchair flat against the rear of the shelter providing ample room in front for tackle and luggage storage, cooking space and more.
The Brolly utilises lightweight, but very hard-wearing and durable 5,000mm hydrostatic head ripstop material, so not only will you stay dry throughout even the most torrential of rain, you can rest assured that tucking yourself away tight to bankside vegetation wont damage your shelter.
Various front options (sold separately) can be attached via the main front zip, offering a solid front (£29.99) for those who require more protection, as well as a full mozzy front (£29.99) or clear door option (£19.99). Wychwood have also utilised an extra-wide door on these options which offers welcome room to get in and out of the shelter.
A large rear mozzy-mesh vent helps to keep condensation down to a minimum when cooking and allows a welcome breeze throughout the shelter in the warmer months, enabling the angler to regulate the climate inside the brolly with ease.
A feature we saw Wychwood bring out several seasons ago – the ingenious and unique extended internal skirt – allows the angler to situate luggage around the internal perimeter, offering protection from the ground and also ensuring less draught will enter your shelter in the process. You will also be glad to hear that internal mesh storage pockets are still present, so keeping valuables to hand has never been easier; this eradicates the need to litter bucket lids and luggage tops, keeping your valuable footprint clear of clutter.
The brolly is supplied with pegs, two 24-inch storm poles and a rigid support bar that goes across the front of the frame to give the user a rock steady shelter even in severe crosswinds. The brolly comes in a welcome oversized full zip bag, providing ample room to easily pack down the brolly and any add-ons in a hurry. As with the various front options, a groundsheet is also available separately (£29.99).
RRP: £169.99
WEBSITE: www.wychwoodcarp.co.uk