NUTRABAITS | Trigga Ice Boilie Range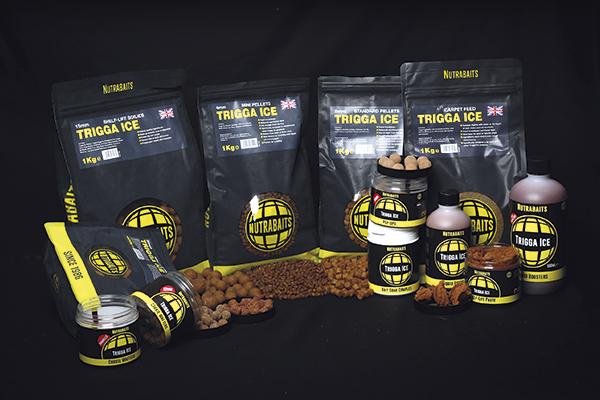 Nutrabaits has multiple baits within its range and has done so for some time now, although there is one particular bait that has been most popular with carp anglers across the globe that goes by the name of Trigga.
The bait has accounted for a staggering number of big carp gracing the banks over time, yet in subsequent years the development of Trigga Ice has seen faithful users of Trigga change to its successor.
Whereas Trigga was especially effective in the warmer months it was often thought in cooler temperatures that a bait that contained little to no oil was needed and therefore another bait in the range was commonly used. The introduction of the Trigga Ice boilie has eradicated the need to do so thanks to the addition of natural emulsifiers and spiced oleo resins, creating a bait that is not only suited to cooler water temperatures but also more instant.


Initially designed as a winter bait, which exceeded anglers' expectations in the coldest of weather, Trigga Ice is often used all year round by many.
Complementing the boilie are several products in the range created to release identical matching food signals, in the form of bait soaks, bait sprays, base mixes, carpet feeds, cork wafters, liquid boosters, pellets, pop-ups and pastes. The Trigga Ice boilie is available in both a freezer bait as well as a shelf-life option yet it is the latter that has proven to be far more popular. This is thanks to the convenience of having a bait ready to go at all times that will not spoil because of the use of high quality human grade food preservatives without sacrificing any nutrition whatsoever.
Bait sizes range from 12mm in increments of 2mm up to the largest of 20mm, which are available in 1kg, 2.5kg, 5kg and 20kg options. Nutrabaits also offers a custom bait rolling service now taking place in-house for the angler who wishes to gain that all important edge on their chosen venue.
One thing is for sure, using the Trigga Ice base mix would be a very good starting point!
RRP: £various
WEBSITE: www.nutrabaits.net