KENT PARTICLES | Prepared Particles – Core Range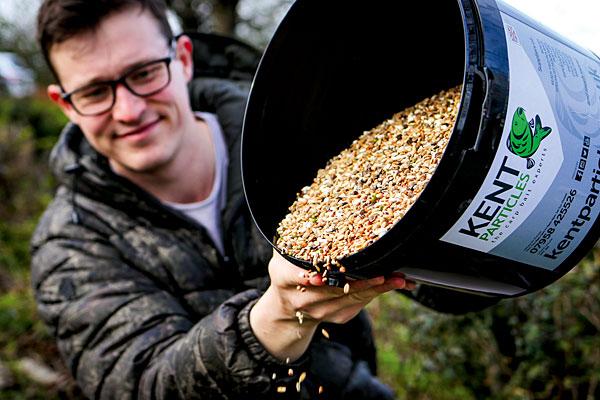 For many, bulk particles form a key staple in their baiting strategy, be it the base of a spod mix or a cheaper option for prebaiting. However, buying in bulk used to mean buying the uncooked seeds, nuts and pulses and preparing them yourself at home. For many, this was the downside of such a cheap and effective bait as many are unsure on the best cooking processes, simply don't have the space and capacity to store it, or just don't want the mess and additional fuss. This has led to a rise in pre-prepared particles, and Kent Particles offers its basic particles at a price that is simply irresistible!
Its core range of particles consists of a few key items which can be used as the base for any mass baiting strategy. Fresh hempseed is one of the best loose feeds around, which the carp simply can't get enough of. Maize is another great bulk ingredient, which offers sweetness and colour to any mix. Combine the two and you have a great start to any spod mix. Additionally, for waters that allow them, Kent Particles also provides the mix with Tigernuts, which are arguably one of the greatest carp baits around. Finally, for those who want something a little different to the hempseed approach, there is always Partiblend, a great mixture of smaller seeds and pulses, flavoured with aniseed to keep them coming back for more!
All of these mixes are available freshly prepared for just 99p per kilo, with a minimum order of 5kg (bagged up). Alternatively get them delivered readily in either a 5 or 10kg bucket for a small additional fee of £3.49 and £4.99 respectively. Your spring/summer baiting campaign just got that whole lot easier!
RRP: £0.99 per kg
WEBSITE: www.kentparticles.co.uk