DYNAMITE BAITS | Big Fish Liquid Attractant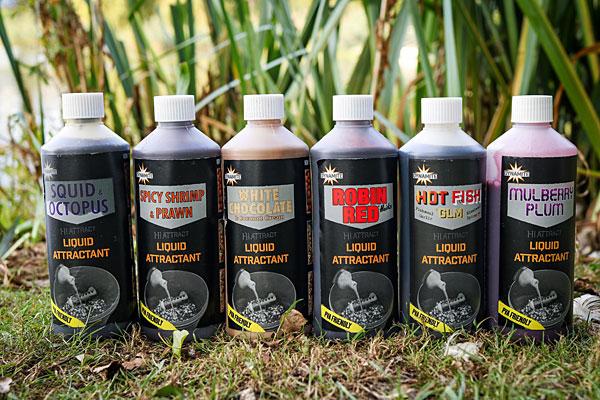 It is fair to say the range of PVA-friendly liquid attractants available from Dynamite Baits is certainly vast, with no less than 15 to choose from. We have selected six of the most popular flavour profiles available that not only have accompanying boilie ranges but will ultimately allow you to maximise their powerful carp catching abilities through their versatile applications.
We have highlighted two fishy favourites for those among you who like to use such mixes. Both Squid & Octopus and the unmistakeable Spicy Shrimp & Prawn are available in the resalable 500ml bottles. Loaded with natural ingredients you can apply this in whichever dosage you feel fit! These enhancers can be used alongside the matching boilie ranges or added to PVA mixes, spod mixes, used as a pellet soak or incorporated into groundbait and Method mixes with ease. The inclusion of fish oils creates a powerful slick that will ensure that carp and other species can detect it throughout the entire water column.
Two of the most famous carp catchers ever have certainly got to be Robin Red and GLM, and what's more as well as the proven Robin Red Liquid Attractant available, which does utilise the ever faithful and original Haiths Robin Red, the GLM has found a latest twist of Hot Fish, and this is a twist that just seems to drive those carp into a feeding frenzy!
If however, the cooler months are leaving you more confident with a sweet bird-food-based boilie approach then the last two attractants are exactly what you need to get your hands on. As delicious as they sound the sweet White Chocolate & Coconut Cream and instantly recognisable Mulberry & Plum are the winter choices for many a specimen angler. Utilising a bird food and milk protein base these attractants will release constant signals year round even in the cooler water temperatures of winter. Deep purple in coloration the Mulberry Plum will certainly mean you stand out from the crowd!
RRP: £6.99
WEBSITE: www.dynamitebaits.com