CRAFTY CATCHER | Big Hit Grab Bags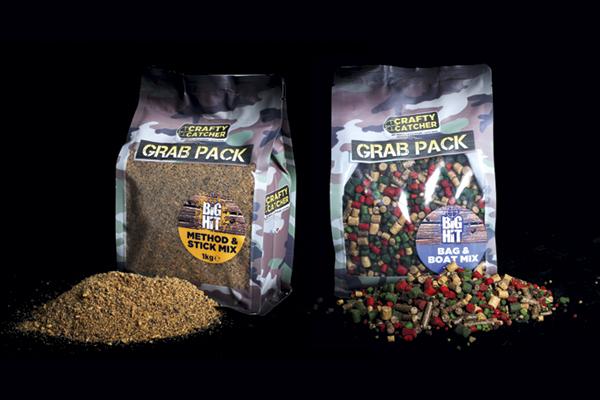 Oily Pellet Bag Mix
Supplied in a handy 1kg grab bag, this oily mix is perfect for PVA bags, PVA sticks, adding to marginal spots or simply topping up spod mixes, among other uses. The mix itself contains a range of different sized and types of pellets to create a multitude of breakdown times that ensures your spot will always be leaching instant attraction.
In order to boost the appeal and create a wide scent trail throughout the water column, the pellets are also glugged in a special feed-inducing fish oil and then are coated in both whole shrimp and the super-effective krill powder.
Micro Pellet Bag Mix
Boasting a wide range of micro-sized pellets, as the name suggests, these smaller pellets are ideal for creating smaller, more compact PVA bags and sticks. If you are a fan of using solid PVA bags at maximum range then this is the mix for you!
Method And Stick Mix
This versatile mix utilises various blends of proven fish catchers and is designed for a fast breakdown and to release an instant explosion of attraction once introduced. The Method mix can be utilised through cage and Method feeders, but can also be used to create PVA bags and the ever popular PVA stick! It boasts superb binding qualities when mixed with water or Crafty Catcher's various superb liquid attractors, so you can be assured the mix will hold steady when blasting your Method balls to the horizon!
Bag And Boat Mix
Similar to the micro pellet bag mix, but on the bigger end of the scale, ideal for feeding from a scoop. This comprehensive range of various sized pellets, from traditional carp pellets to long extruded pellets, all have a wide range of breakdown times, scents and flavours not to mention colours too.
This is a fantastic mix to keep the fish in your swim for longer and allows you to use a wide range of hook bait options. As the name suggests, application can be made via a wide range of bait applications and has been put to very good use by an extensive testing team utilising PVA bags, bait scoops, spods and bait boats – the choices are endless.
RRP: £4.99 each
WEBSITE: www.craftycatcher.com