CC MOORE | Prepared Particles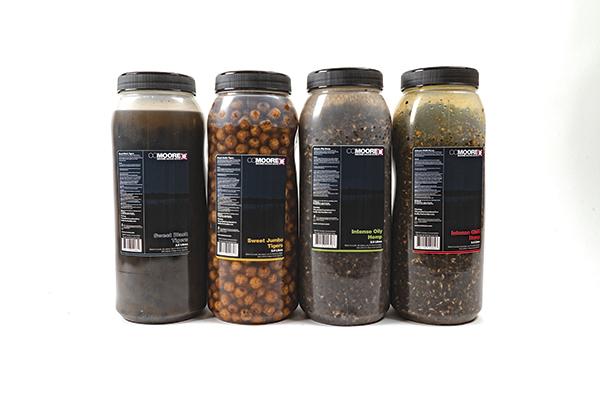 The varied sizes and unique buoyancies of particle baits help build to the carp's confidence to feed in the swim, often for sustained periods and sometimes a far quicker response than boilies too. With our hook baits sitting enticingly inside the baited area this gives us plenty of chance for a pick-up or two and what is really great is fish feeding on particles give away plenty of signs out in the water if eyes are kept peeled.
CC Moore has long been a trusted supplier of particle baits and it also produces its own range of high quality Prepared Particles, supplied in convenient 2.5 litre jars. These are great for those short notice, unplanned sessions where the preparation of particles would not be possible due to time constraints. The particles can be stored at ambient temperatures so are great to stash in the motor, but should you not need to use all of the bait inside the jar, once opened you can simply freeze the remainder for your next outing.
The Intense Chilli Hemp, Intense Oily Hemp, Sweet Black Tigers and Sweet Jumbo Tigers are the four new products in the range, which boast unrivalled attraction. In order to retain of all the goodness from both the nut and seed baits CC Moore has chosen to cook the particles to perfection inside their respective jars.
The Intense Chilli Hemp lives up to its name and packs a real spicy punch and crunch, which carp absolutely adore and serves as the perfect base for a spod mix. This also applies to the Intense Oily Hemp and can be easily customised with CC Moore's very own Liquid Food selection. The Sweet Black Tiger Nuts are a distinctive yet highly effective version of the legendary tiger nut to use as loose feed, be it whole or crushed. They balance beautifully when mounted on a rig too when plugged with a little cork, and best of all you can bait sparingly with them. Believe it or not the colour of the nut is completely natural too.
Should you wish to use a larger bait due to nuisance species or when trying to single out a specimen fish then the Sweet Jumbo Tiger Nuts may be just what you require. These are cooked with a natural sweetener that carp go literally 'nuts' for and just like each of the four new products will remain fresh until opened.
For just £10.99 a jar of the Intense Chilli or Oily Hemp can be yours while the Sweet Black Tigers are £13.99 and the Sweet Jumbo Tigers are £12.99.
RRP: £VARIOUS
WEBSITE: www.ccmoore.com