CC MOORE | Natural Bag Mixes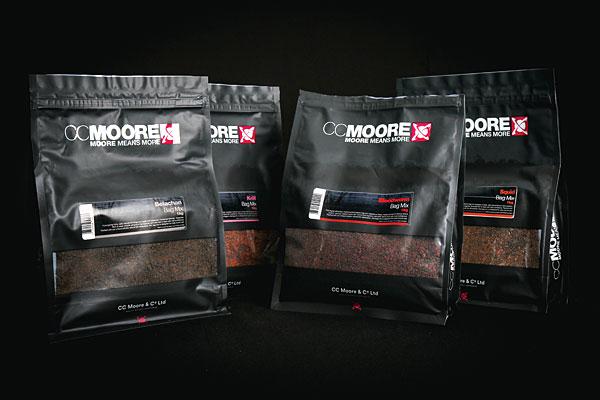 We all know just how attractive many natural baits can be to the carp and CC Moore's Natural Bag mixes tap into this, with four mixes in the range: Belachan, Bloodworm, Krill and Squid Bag Mixes.
The Belachan Bag Mix boasts a potent shrimp aroma that delivers a salty taste that carp adore. This natural product is in fact fermented shrimp and its pungency certainly confirms just that, but be safe in the knowledge that Belachan is a somewhat underused yet incredible fish attractor. Bloodworm needs no introduction as all carp will readily scour for and devour this naturally occurring food source with ferocity, hence the creation of its very own bag mix using a number of Bloodworm products from CC Moore.
Another Natural Bag Mix that screams a rich and savoury taste is the Krill Bag Mix, which is bursting full of marine proteins and naturally occurring salts that no carp could resist! The fourth, final and newest addition to the range is the Squid Bag Mix. Having been used extensively for a number of years it is well documented that squid seems to single out the larger carp in the lake due to being tremendously rich in amino acids and vitamins. All the mixes work year round, so why not give them a go when you're next on the bank!
The Natural Bag Mixes are a quick and convenient way to get fishing as they are ready to use at the drop of a hat without having to make up your very own bag mix from scratch prior to a session. Unlike many other readily available mixes that are supplied in a dry state, CC Moore has ensured each of these mixes are oily and moist. Each mix contain a blend of highly attractive particles and pellets in a range of different sizes for staggered breakdown rates. Although ever so attractive in their own right they can also be tailored to preference with boilie crumb, powders, food liquids and oils.
The fine nature of the Natural Bag Mixes makes them extremely well suited to solid PVA bags as the small food items promise to fill any void, removing any air traps – this allows you to really compress the bag, making them seriously 'solid'! Make sure not to disregard PVA sticks either, a serious edge that will aid rig presentation on any substrate.
RRP: 1kg £5.99; 3kg £15.49; 5kg £21.99; 10kg £39.99
WEBSITE: www.ccmoore.com