VASS | Vass-Tex 350E Lightweight Wader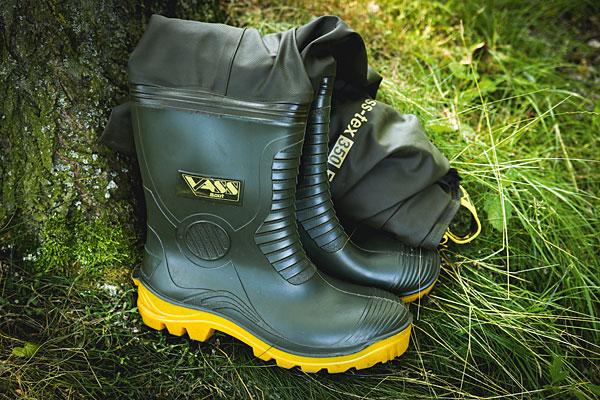 Thanks to the tell-tale yellow strap, Vass has become the gold standard for carp fishing waders over the past few years. It is reputed for sturdy, comfortable waders that get the job done, but also look good in the process! In spring 2019, Vass released the new lightweight waders in its 350E material, which I've been using since their release.
The new lightweight material is much more supple and weighs approximately half that of the Vass-Tex 700 Heavy-Duty material. This means that as a whole they are a lot lighter and also roll down into a much more compact package.
They utilise the same high quality craftmanship and raw materials, featuring the well renowned mid-length Vass boot, which is comfortable, easy to slip on and has great grip on any terrain.
So what about their hardiness? So far, I've not had to make any repairs. However, I've been relatively kind to mine, using them for what they are designed – wading! It goes without saying that if you're always kneeling on gravel, climbing trees and walking through brambles with them on then it's probably going to take its toll a little quicker!
RRP: £89.99
WEBSITE: www.vassrainwear.co.uk
Matt Townend's Verdict: "A comfortable and lightweight wader that does its job – keeping me dry!"