CULT | DPM Technical Bivvy Coat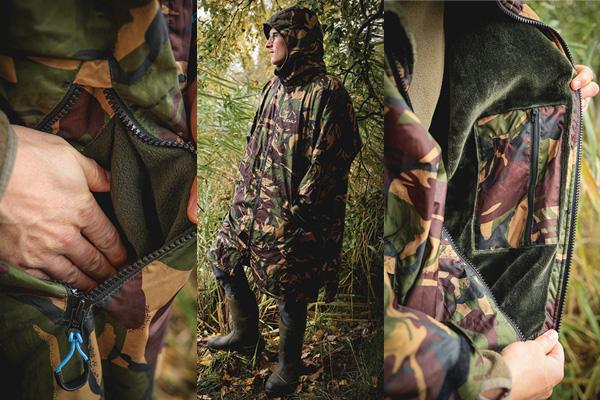 With the harsh grips of winter firmly setting in, now is the time to ensure you have the right garments to keep you protected on the bank. At this time of the year we need to be comfortable, warm and dry to fish at our best and the brand new DPM Technical Bivvy Coat will ensure you are exactly that! Similar to the ever-popular changing robes used by surfers and cold-water junkies, or the bench coats worn by footballers to keep warm by the pitch, this garment will shroud you from whatever the weather tries to throw your way.
The ingenious oversized fit ensures you will not only be protected from the elements but offers you far more coverage than previous jackets. The oversized fit helps to eradicate the rain, cold and the wind but also provides increased manoeuvrability thanks to the full length two-way YKK zip with Cult Eazi Access Zip Pullers. Being able to open the zip from either top of bottom allows you to adjust the coat accordingly if you are sitting down, walking, heading to the toilet or attending to a variety of activities where traditional jackets would previously inhibit your movement.
An advanced durable water repellent (DWR) finish and fully taped seams ensure that the garment is completely 100 per cent waterproof as well as windproof, which is fantastic if heading out for short day sessions without a shelter or indeed when you wish to snuggle up in the confines of your bivvy. The internal of the jacket benefits from a super-soft lux fully lined inner and two oversized lux zipped hand pockets.
As well as the external pockets, there is an internal waterproof pocket, designed for mobile phones and receivers and ensuring your valuable electronics stay just as protected as you are. Adjustable comfy cuffs are also situated at the end of each sleeve so you can tailor the fit to yourself and keep unwanted draughts and drips at bay.
RRP: £129.99
WEBSITE: www.culttackle.com