TF GEAR | Extreme Boots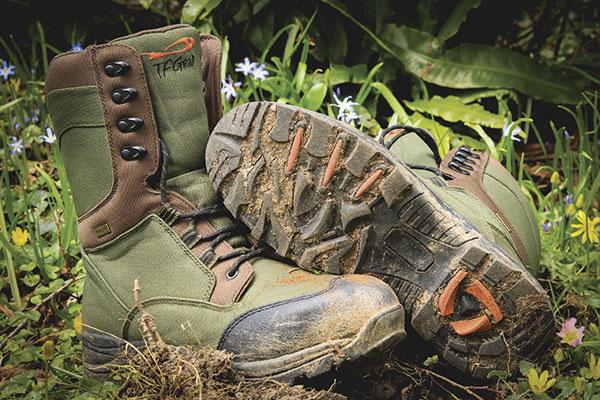 It seems I have spent most of my life in boots, from work boots on building sites, to hiking boots in the mountains, smart boots for going out and of course fishing boots!
Having owned a pair of the TF Gear Primal AP Extreme boots around about five or six years ago, I was keen to dip my toe (pun intended) back into the footwear range from TF Gear. I have owned the Extreme Boots for several months now and have been able to get out and about locally in a multitude of weathers, from snow to rain and even some occasional sunshine too.
Firstly the boots are big, they offer full protection coming a fair way up your shin, but what's more impressive is they are possibly the lightest, tallest boots I have ever owned! I am a size 10, so I'm guessing that's probably average for a man around the 6ft mark; I weighed these boots at home and they came in at 1.35kg while my trusty Timberlands weighed in at 1.45kg, and they only just go above the ankle, do not offer the generous protection, shock resistance and waterproof, breathable material – mind blown!
Appearances can be deceptive, the boots in my opinion look big, of course they should they offer extreme and overall protection but your feet feel nimble, you can easily utilise the ample amounts of grip over loose terrain with ease; whether I have been clambering over stones in the river, to walking shingle tracks each footstep has felt sure and steadfast. In the past I have bought both trail shoes and boots for their waterproof abilities only to be let down when out and when needing it most.
These boots so far have not failed to deliver, walking through puddles and crossing streams with depths to about four or five inches, I have remained dry, and most importantly for me that means warm too, as soon as I get cold feet I begin to question why am I even out there?
Having trudged miles walking the dog, loaded with kit in search of a winter bite along the river and around the local day tickets, my feet have kept warm but without overheating and ending up sweaty; this for me is paramount because firstly I don't want hot, sweaty feet that then cool down and get cold, but also it means my feet won't smell as much, and that benefits both me and the people when I get home.
With a secure front lace-up style I am able to get a snug fitment each time I don the boots, and that precision is great when walking long distances, so I think for my planned river campaign this year these may just be the most important bit of kit I have.
Last but certainly no means least is the price, For under £60 these boots are worth every penny; having owned my previous pair of TF Gear boots for around three years, if these even last half that time I will consider it money well spent!
RRP: £59.99
WEBSITE: www.totalfishinggear.co.uk
DAN MURRELL'S VERDICT: "Comfortable, incredibly lightweight, protective and most of all affordable!"