RIDGEMONKEY | Disperse PVA Bags and Tape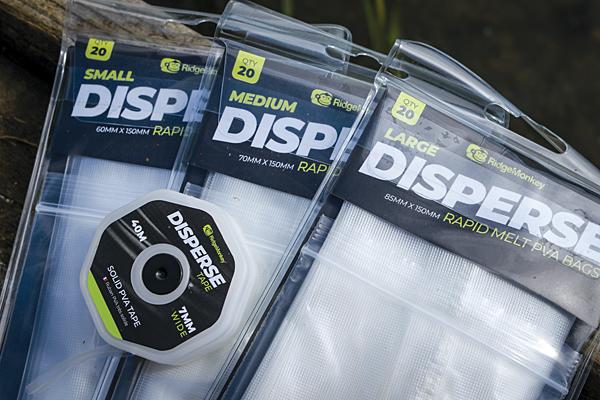 Extending the already proven range of RidgeMonkey terminal tackle available comes an useful new addition - Disperse PVA Bags. Available in small, medium and large, the rapid melt formula utilises premium grade PVA and the extra strong film ensures your bags remain intact on even the biggest of chucks.
Ultra low residue, ensures superior presentation with minimal left over PVA around your baited rig, perfect when casting to showing fish, fishing in clear water scenarios and generally helping to keep your presence unob-trusive.
All three sizes are 150mm in length, ensuring there is always plenty of material to work with and allows the user to customise the shape of their bags. The small bag measures in at 60mm width, making it ideal for creat-ing a streamlined parcel of bait that can really go the distance. For the ma-jority of carp angling situations the medium size (70mm wide) allows the angler to include a bit more bait and weight, which will suit most scenar-ios. Finally, the daddy of the range, the large measured in at 85mm and is perfect for dropping with aid of a boat, fishing into beds of weed or when you require a larger offering of feed or larger feed items.
For rapid bagging, each bag can be easily licked and sticked. However for optimal results especially when loading with maximum weight or cast-ing to the horizon, the bags are best secured with PVA tape.
With this in mind, there's another new product to accompany the bags -RM-Tec Disperse PVA Tape! This comes supplied on a 40m spool, and is 7mm wide, making it ideal for stringers, securing PVA bags, tying up lead clips and much more! With a plain finish and rapid melt construction, you can rest assured the PVA Tape will 'Disperse' leaving no residue and ensuring you are fishing most efficiently.
RRP: £2.99
WEBSITE: www.ridgemonkey.co.uk