PB PRODUCTS | Readymade Leader Setups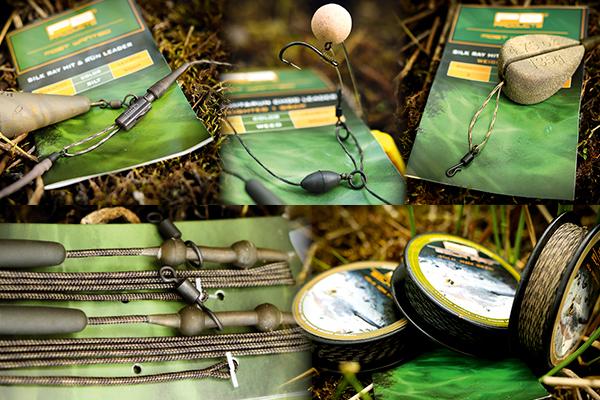 A range of leader setups to make your angling easier and more effective.
HIT & RUN LEADER RRP
RRP: £5.99
Probably one of the most favoured leader setups used by the PB team, the Hit & Run system operates using a pulley system that creates extraordinary indication, as five inches of movement at the businesses end will result in 10 inches of movement at the reel end.
The system utilises a specially designed lead clip where the hook-link swivel runs freely on the line, drawing the doubled over leader through the clip. This also creates a super-safe leadclip setup, allowing a hooked fish to dump the entire leader should a cut-off occur.
These come as a ready-made setup, tied using the amazing lead-free SilkRay leader; its smooth, supple and heavy aspects make this the perfect material for this system. All you need to do is simply attach your main line to the leader, add your chosen rig via the speedy quick-change swivel and you're ready to go with one of the most effective and safest setups in today's market.
HIT & RUN CHOD LEADER RRP
RRP: £5.99
There have been many debates regarding chod rigs and their bite indication, so PB created a chod leader design that utilises the same incredible Hit & Run concept used with its lead clips to maximise bite indication on a chod setup!
Keep the same key presentation afforded by a chod rig and reduce the potential losses that could be getting made with a conventional setup – it's a potential game changer.
Available in both weed green and gravel colours and in 90cm lengths, if you love a chod rig then these are certainly worth a go.
HIT & RUN INLINE LEAD SYSTEM RRP
RRP: £2.49-3.29
Continuing the Hit & Run theme, PB really do have all bases covered with the addition of the inline lead system which utilises the same key concept to improve both bite indication and rig safety.
The slotted leads can be used as a standard drop off lead system, or when utilised with the special insert can be converted to the Hit & Run pulley system.
Leads are available between 2.5 and 4.75oz and in Weed, Gravel and Silt colours.
HELI CHOD LEADER RRP
RRP: £7.99
Diversity is a great edge to have in carp angling and using end tackle that allows for fast changes with minimal actions gives the angler a true advantage in presenting a bait in different fishing circumstances.
This leader allows not only for a helicopter setup but can quickly be changed to fishing a chod rig. With beads that allow for easy depth changes this means that no matter what lies beneath the water in front of you, you can trust you will be able to adapt fast and present a bait accordingly.
You get two in a pack that come in either 60cm or 90cm lengths, 45lb in strength and a choice of both weed or gravel colour to finish.