PB PRODUCTS | Chod Products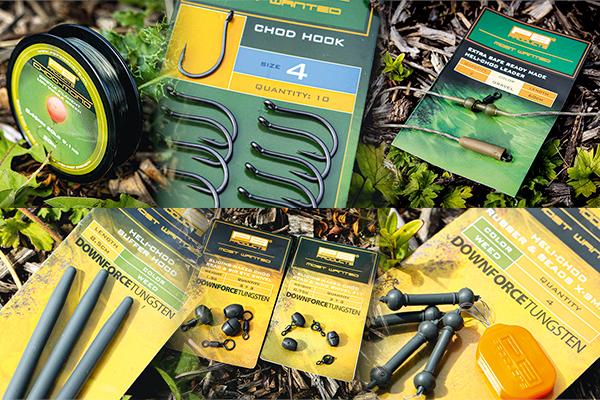 We take a look at all thinks chod related from the forward thinking terminal tackle company, PB Products!
Chod Mono Hooklink
RRP: £7.99
Developed over a three-year testing period, this high memory Chod Filament is available in three sizes – 15lb/0.40mm, 20lb/0.45mm and 25lb/0.50mm. With a high knot strength and a subtle green coloration, the Chod Mono Hooklink is not only relatively easy to tie, but also holds its shape well which is essential when creating curved hook link sections.
Chod Hooks
RRP: £4.99
Available in three sizes – 4, 6 and 8 – these super-strong and seriously sharp hooks benefit from an angled hook eye for optimum hook-holds, while being large enough to pass the Chod Mono Hooklink through enough times for the perfect D section! Ten hooks per pack also offers great value for money.
Extra Safe Heli-Chod Readymade Leader
RRP: £6.99
Utilising a heavy yet flexible leadcore leader, this ready to use leader simply means no fiddly splicing, simply attach your rig and tie to your main line and you are ready to fish! Constructed utilising the Heli-Chod System you can effortlessly switch between chod rigs and other helicopter rigs simply and quickly.
The beads attached can be adjusted to suit the lake bed you are fishing and will counter weed, silt and any other detritus you may find yourself among. With two per pack and in 60cm or 90cm lengths they have a breaking strain of 45lb and can be found in Weed or Gravel finish.