TF GEAR | Chill Out Giant Bedchair & Armchair (Video)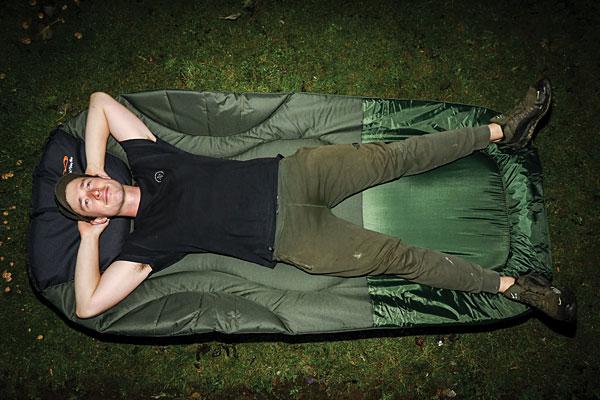 There are certain pieces of kit that pop up and simply astound in terms of not only quality but value for money too. The TF Gear Chill Out Giant Bedchair is one such example, a truly enormous bed for the larger angler or for those who regularly fish longer sessions and like to have just a little more room and comfort when spending several nights away from home.
Despite its massive width this bedchair is no longer than a standard model so it will easily fit inside the majority of bivvies on the market with no issues at all. Most importantly though, the Giant Bedchair is extremely comfortable. With full padded skirting around the perimeter of the bed, the angler is protected from the frame at all times and it is possible to stretch out on every corner without feeling any discomfort.
This goliath bedchair is well padded throughout, featuring a built in pillow at the head end and a wipe clean section at the foot end to protect against muddy boots in less than desirable conditions. Elastic runs throughout the bed and this can be tightened to suit.
There are a total of eight legs on the Chill Out Giant Bedchair for ultimate support, with each leg being fully adjustable and spring loaded too, with rotating mudfeet that will adjust to any ground type.
TF Gear has made a conscious effort not to sacrifice any strength whatsoever. However, despite the thick padding, elastic support, eight legs and quality durable material used to construct the bed, it is still surprisingly lightweight! Retailing at £129.99, this is fantastic value and will be a great option for the larger angler.
To sit alongside the Chill Out Bedchair (excuse the pun) is the TF Gear Chill Out Armchair. This product boasts the same high quality standards as well as a number of features that ensure utmost comfort. Weighing in at only 5kg this chair is equally useful for short sessions as well as longer stays at home or abroad. A nice high back with a padded head rest and a pair of ergonomic arms produce a beautiful seat. As with the bedchair each of the four legs are fully adjustable and also come supported by essential mudfeet. For just £39.99 there would no reason not to look at picking one of these up!
RRP: £129.99 / £39.99
WEBSITE: www.totalfishinggear.co.uk
To find out more about TF Gear's Chill Out Giant Bedchair, watch the video below.