RIDGEMONKEY | Junior Bunk Sleep System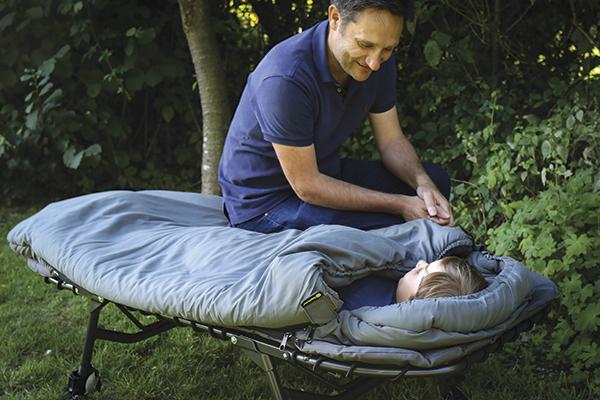 There is no denying that we love a new product drop from the team at RidgeMonkey, often bringing to market a new concept, a solution to an age-old problem or simply just something a bit quirky. The Junior Bunk Sleep System is exactly that, a solution to providing a comfortable, affordable and indeed secure night's sleep when taking your kiddies out on the bank!
Imagine an all-in-one sleep system specifically designed for getting your children out on the bank while providing a comfortable night's sleep and keeping them close enough to keep an eye on. In a nutshell that's exactly what we have here, a supportive rock sturdy bedchair with a built-in sleeping bag, and what's more it is at a very competitive price point too!
Designed to deliver a compact footprint while offering a valuable spacious mattress, the Junior Bunk Sleep System will now mean no more trying to struggle fitting two traditional large bed chairs in your existing shelter. With a unique shape, the system has been designed to fit snugly into the rear of most fishing shelters, allowing the junior to be close to their responsible adult and also meaning you won't have to shell out on a full adult size expensive bedchair and sleeping bag, and in some cases a new shelter to set them up in as your existing one-man shelter just isn't big enough.
With a reduced length compared to traditional bedchairs, in testing the guys at RidgeMonkey were also able to still fit luggage at either end of the bedchair when used in a selection of popular bivvies on the market today.
The bedchair itself measures up at 1,500mm (L) x 650mm (W) x 400-600mm (H) extended and thanks to the foldable stowaway design, double hinge mechanism and compressions trap packs down to 600mm x 650mm x 300mm. Weighing in at just 7.3kg complete with sleeping bag, thanks to the lightweight high-tensile aluminium frame the whole system can sit on top of your bedchair on the barrow or can even be carried around once you are set up!
As you would expect, the bedchair benefits from spring-loaded height adjustable legs, each with adjustable fold-flat mudfeet so you can tailor the height of the bedchair to be level with your own, even when fishing on uneven banks. With an exceptionally comfortable elasticated foam mattress, the bed is also fitted with a durable 600D outer trim, so even when the young 'uns are jumping on and off the chair with muddy shoes or wiping their chocolate-clad hands over the chair you can rest assured it is easily cleaned and, more importantly, super-durable.
The sleeping bag itself is a fully removable zip-on four-season design, boasting 300gsm hollow fibre insulation and a soft peachskin fabric outer with a handy durable water-resistant coating. Inside the bag sees the use of the cozy and indeed snug microfleece inner lining providing unrivalled warmth and comfort needed for the colder nights here in the UK and across Europe. As you would find on adult sleep systems, the Junior Bunk Sleep System is fitted with full length baffles to reduce cold spots and draughts as well as benefiting from crash zips, should your young angler need to get out in a hurry when their alarm sounds.
With the huge amounts of interest across social media on the launch day these Junior Bunks will be selling thick and fast so be sure to check them out at your local stockist. Even those of us with furry four-legged friends are contemplating treating them to a luxurious night's sleep!
RRP: £159.99
WEBSITE: www.ridgemonkey.co.uk