SONIK | SK-Tek Sunchair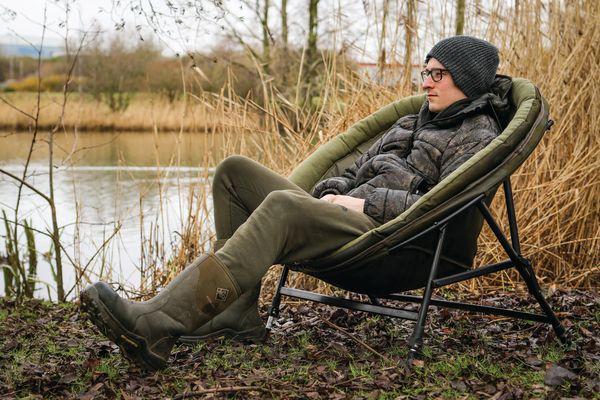 If you could choose between being sat in supreme comfort on a long trip you've anticipated all year rather than suffer with back pain or constantly be on the lookout for somewhere nice to perch all week long, what would it be? The majority of us would almost certainly choose the former and for good reason! Fishing isn't meant to be an endurance, for many of us it is a beautiful pastime to relax, forget the stresses of daily life by getting out and enjoying nature with a fish or two thrown in. Sonik seems to be of the same opinion and the release of its SK-Tek Sunchair proves just that.
There is no doubt that if you were looking to go for an evening session this chair may be a little overkill, but for those who regularly partake in longer sessions at home or abroad this is just the ticket. As you can see the unique shape of the Sunchair utilises a padded seat rim and a beautifully padded inner with plenty of space to move around once seated.
The Sunchair is ever so stable and its sturdy construction allows the chair to sit on virtually any surface thanks to its adjustable legs that allow for a low or high seating position. The addition of swivel mudfeet prevents sinkage into the brown sticky stuff and further enhances stability. If that isn't enough an integral rain cover has been cleverly implemented as well as two handy side mesh pockets, providing a safe place to keep the receiver, wallet, keys or phone close by.
While the transport size of the Sunchair isn't particularly small, measuring in at 102cm in diameter, the weight of the total package is rather surprising settling at a mere 6.4kg on the scales. At £99.99 it's certainly not the cheapest seat on the market, but as with many other products in the Sonik range you will not be disappointed with the quality for your buck.
Furthermore, if you venture abroad or plan to fish for long sessions throughout the year then why not splash out, treat yourself and enjoy the very best of comfort to be had on the bank.
RRP: £99.99
WEBSITE: www.soniksports.com