SPEERO | Modular Luggage (Video)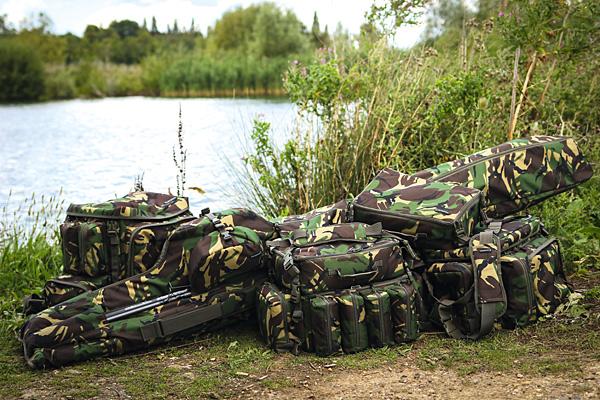 An innovative luggage concept designed to keep you organised on the bank for more efficient angling!
Carp angling is very methodical, we plan our trips days or even weeks in advance, constantly thinking about what we may need to bring along to cover any possible eventuality. Emptying our luggage and contents on to the floor and wondering what specific tackle items we really need to bring along is commonplace – many of us have been there – but what if there was a way where you wouldn't have to reorganise all the time?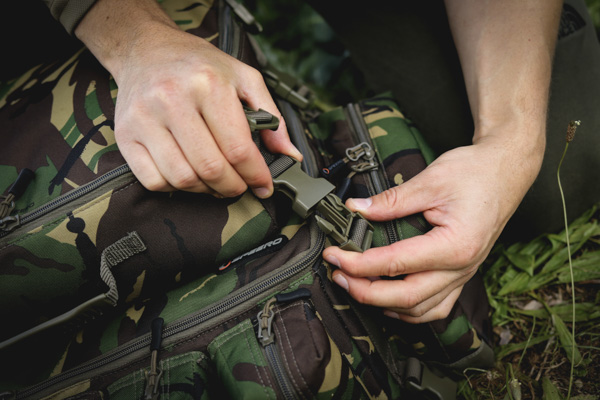 Well, there is, and new brand Speero Tackle has just the solution for many of us long-term sufferers. The complete Speero Luggage Range has been designed around the modular clip-on system whereby each bag can interconnect via four buckles. Additional bags containing items such as cookware, bait or spare clothing can simply be clipped on to your rucksack or carryalls, so that you can tailor your luggage to your exact daily needs – you will be more efficient than you've ever been!
The entire range is crafted from extremely robust materials, boasting a hard wearing 600D Cordura material in a choice of solid green or DPM luggage (priced the same), military grade zips and super-strong nylon buckles. Here we take a first look at the key modular items in the range.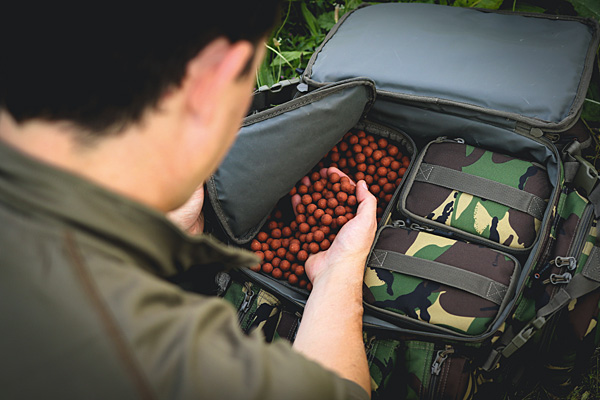 Modular Bait Bag
RRP: £84.95
What an interesting piece of kit the Modular Bait Bag is, with more compartments than you can shake a stick at, allowing for a whole host of bait types to be used during a session. Up to 12kg of bait can be carried inside the main compartment of the bag, and if is there a need to separate the bait there are multiple different sizes of cool bags that sit flawlessly inside.
The lining on the inside of the bag is wipe clean for when inevitable spillages occur and the same applies to the heavy-duty bottom of the bag. A strong yet comfortable shoulder strap makes for ease of carrying to the car or desired swim, handling an even heavier load with ease when another luggage item (take the Modular Clip-On Cool Bag, for instance) is clipped on.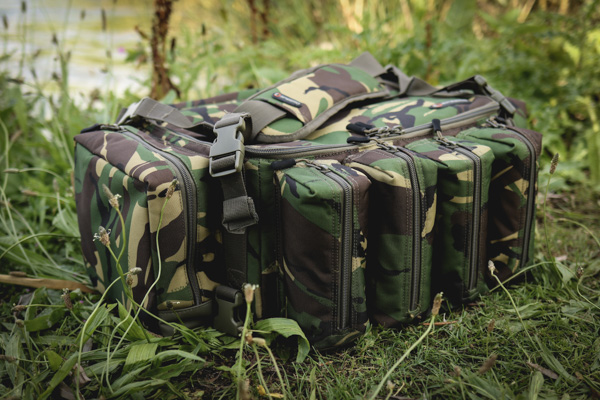 The external storage featured on the bag is simply unrivalled at this point in time with four front hook bait pockets, two spacious end pockets and a large rear pocket. All of which make for quick access of dips, glugs, oils, PVA or rig boxes. Anything placed into the Modular Bait Bag will benefit from the Thermo Cooling System, increasing the long-lasting freshness of any good quality bait.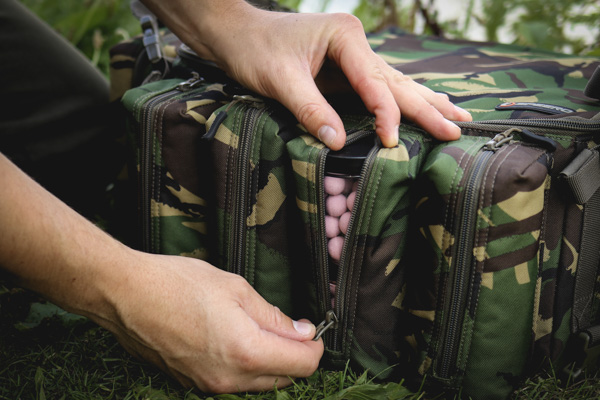 Modular Rucksack
RRP: £129.95
Any high quality rucksack worth its salt will need to hold a sufficient quantity of tackle, should be hard-wearing and be a joy to use. Speero Tackle's Modular Rucksack ticks all of these boxes and leaks class in spades.
Most importantly this rucksack is wonderfully comfortable to transport, even when fully laden as the fully padded back, shoulder straps and belt prevents any discomfort. Should the rucksack need to be moved quickly a strong reinforced grab handle proves to be essential, much like the number of various sized pockets strategically placed around its entirety for optimum storage options.
There are small side pockets for the storing of pop-ups and sunglasses, a large side pocket great for many standard sized rig boards as well as a large front main pocket. This is capable of holding up to seven banksticks and much more!
Four clipping points featured around the top and bottom of the Modular Rucksack allows for further compatible items of luggage to be attached. On opening the lid the internal space is revealed with a handy mesh pocket inside of the lid, perfect for keeping permits, wallets and keys when not in use. Three removable soft inner pouches are also provided which may serve to protect delicate tackle items.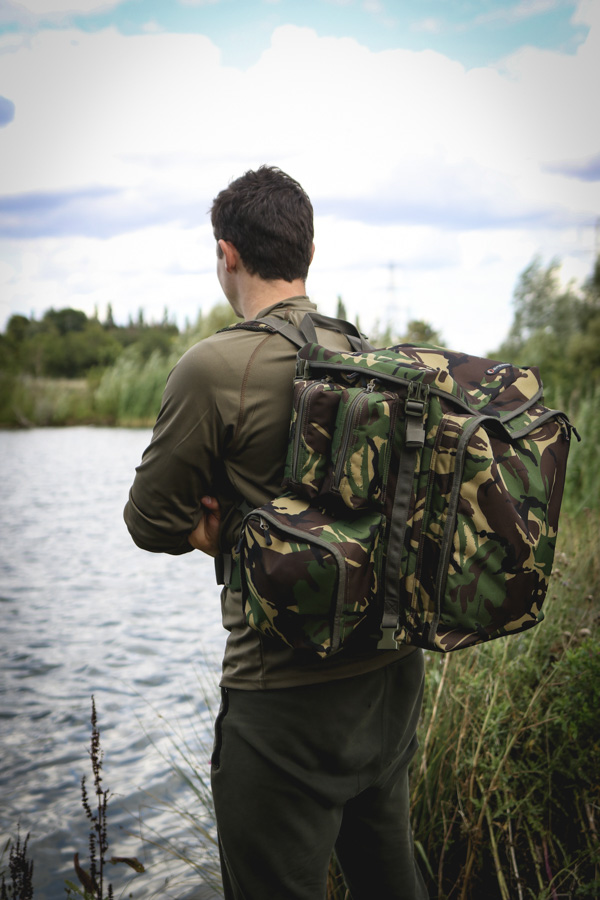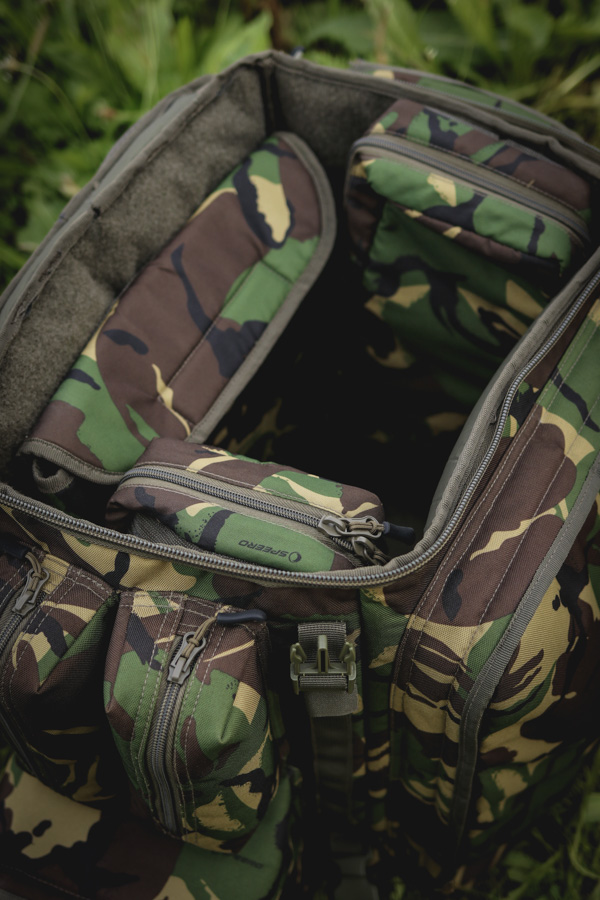 Modular Carryall
RRP: £88.50
Slightly larger in size than the Modular Bait Bag is the Modular Carryall, measuring in at an overall size of 610mm in length, 400mm wide and 250mm in height. Very much like the bait bag there is a plethora of pockets featured on the outside of the carryall. The two large side pockets are sizable enough to accommodate various sizes of pouches and accessory bags, particularly useful when needed quickly.
The heavy-duty base helps to prolong the life of the bag and will also protect items that sit inside the main compartment of the carryall. It is in the centre of the bag where the supplied removable inner pouch is supplied, ideal for storing a set of scales and carp care equipment.
There is plenty of space available in the main compartment where a number of Speero Tackle's own luggage items will sit beautifully inside. The Modular Carryall provides instant access to all of the contents and works perfectly as a main barrow bag.
Modular Cool Bag
RRP: £96.95
Keeping food items cool and fresh during the summer months has proven to be problematic over the years, so much so that much food and drink has often spoiled before being consumed. Speero's Modular Cool Bag has been carefully crafted to help eliminate this wastage as well as providing an ideal luggage piece that will house plenty of cooking items too.
For even longer sessions a Clip-On Cool Bag would be the perfect addition to carry just that little bit extra. There are five external pockets on the outside of the bag, some of which are large enough to hold plates, pans, stoves and gas bottles.
The main compartment of the Modular Cool Bag is where the food and drink is best kept which makes full use of the Thermo Cooling System.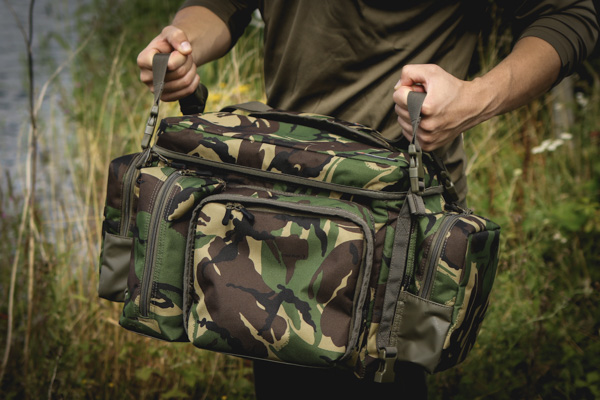 Modular Standard Cool Bag
RRP: £59.95
It's sometimes necessary to make use of large cool bags for bait and food and with its 12kg bait capacity, the Modular Standard Cool Bag will prove a very useful item for the angler who regularly fishes longer sessions. Utilising Speero's advanced Thermo Cooling System you can be sure that it will provide substantial insulation and of course being modular, this bag will attach to any of the other modular items in the range.
The military spec zips make for reliable and efficient usage without fear of deteriorating within a short period of time. An inner wipe clean lining allows for ease of hygiene.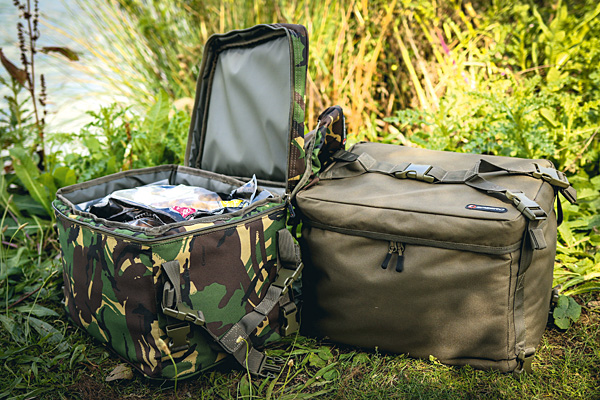 Modular Clip-On Cool Bag
RRP: £29.95
Smaller than the Standard Cool Bag, the Clip-On Cool Bag will carry 5kg of bait or possibly enough food and drink for an overnight session. This smart little luggage item connects well with any larger luggage item especially that of the Modular Carryall or Rucksack.
For anglers who like to travel as light as possible the Clip-On Cool Bag will carry the bare minimum essentials yet will keep them in tiptop condition.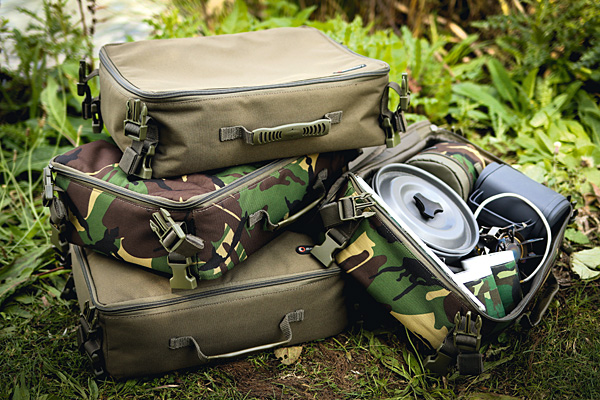 Modular Clip-On Standard Bag
RRP: £23.95
When bait, drink and food are not being carried but instead extra tackle items require their own space then the Modular Clip-On Standard Bag is just the ticket. The possibilities of its use are endless too!
Use it to store a coat, pots and pans or even electrical items – this bag is hardwearing and will attach itself to any of the larger luggage items when needed. A hard-wearing quality grab handle allows for easy transportation.
WEBSITE: WWW.SPEERO.CO.UK
To find out more about the Speero range, watch the video below.