CARP SPIRIT | Hydro Luggage Range (Video)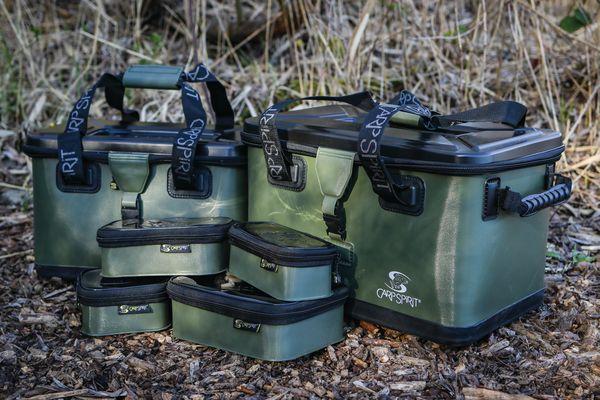 With both bags and boxes in the range, Carp Spirit's all-encompassing range of tackle and accessory luggage has been designed to withstand the rigours of life on the bank, utilising welded seam construction and waterproof materials.
Hydro Boxes
A compact and neat way to organise your tackle to then be put into larger carryalls and/or rucksacks. Designed to be lightweight and hardwearing, each box is manufactured using an EVA 0.85mm body and more durable 1.5mm bottom. Both waterproof and easy to clean, the material is finished with a UV resistant smoked lid so you can see the contents easily while ensuring longevity when being used outside for years to come.
Each box benefits from having a twin zip opening system for easy access while the larger 343 model X Large also has an internal zipped mesh pocket, ideal for keeping smaller items together such as baiting needles, rig tools or hook packets.
There are four sizes available in the Box range – small, medium, large and X large:
Small – 14 x 12.5 x 7cm. RRP: £11.99
Medium – 20 x 9 x 7cm. RRP: £11.99
Large – 21 x 14.5 x 7cm. RRP: £13.99
X Large – 24.5 x 17.5 x 7cm. RRP: £17.99
Hydro Bags
Ideally suited to larger items of kit, such as clothing, bait or bigger tackle items, there are two sizes of fully waterproof bags in the range. Constructed from waterproof material and boasting 1.5mm EVA bodies the Hydro Bags utilise an impact-resistant one-piece moulded waterproof base and lid for strength and durability.
Both bags are fitted with an anti-slip base and double zipper access lid for ease of use. Welded seams are also used to ensure no water ingress when in transit on the barrow or when caught out in a shower. Both bags feature a buckle front system to lock down the lid, minimising stress on the zip and providing extra protection from water ingress where the zips join – it's an extra secure feature we like the look of!
There are two sizes available in the Bag range, the smaller 2600 and larger 3520 model. The smaller sized bag, the 2600 model, boasts both a carry handle and adjustable shoulder strap, making it a great choice for roving anglers who wish to go minimal and keep their tackle to hand but protected at all times. The larger 3520 model is supplied with side carry straps and a central hand strap – nice to have the options of two ways to pick up and move the bag depending on the weight load.
Small – 40 x 26 x 25cm, 26 litres. RRP: £49.99
Large – 45 x 29 x 27cm, 35.2 litres. RRP: £59.99
WEBSITE: www.carpspirit.com
To find out more about Carp Spirit's all-encompassing range of tackle and accessory luggage, watch the video below.