SPEERO| End Tackle Combi Bag (Video)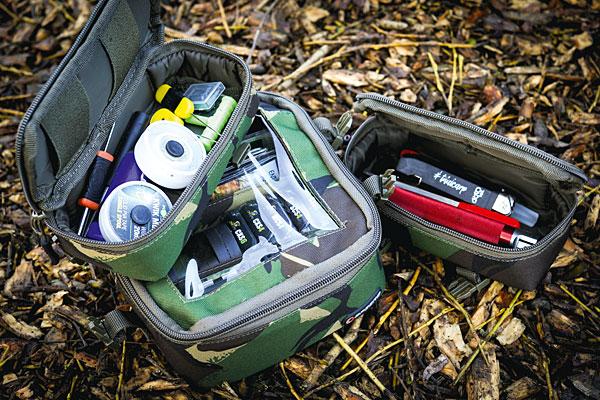 Keeping with the modular theme, this Combi Bag boasts no less than three separate storage solutions that when buckled together create an all-encompassing storage solution.
Starting with the larger main bag, it not only boasts a clever clear view window, allowing you to quickly access what is inside, but there are also three internal storage dividers that are perfect for separating and organising all of your end tackle components. Two identical smaller pouches simply clip to the main bag and each other, and these are perfect for storing your rig tying tools, leads, hook sharpening devices, and more. Whatever items you deem essential to be used together can now all be kept to hand in this one compact item.
As with the other items, the whole End Tackle Combi bag can be purchased in both the carp DPM camouflage finish or the discreet solid green and utilises the same 600D Cordura material as the other items within the range. With a wipe-clean heavy-duty base, keeping your luggage clean is a doddle, and while still boasting reinforced sides to the main bag and a fully padded outer you can rest assured even when loading your barrow or stuffing your luggage under your bedchair your kit will remain safe and protected.
• Overall size: 16cm x 16cm x 13cm
• Main pouch: 16cm x 16cm x 8cm
• Clip-on pouches: 16cm x 8cm x 5cm
RRP: £27.95
WEBSITE: www.speero.co.uk
To find out more about the End Tackle Combi bag, watch the video below.