SOLAR TACKLE | SP C-Tech Bedchair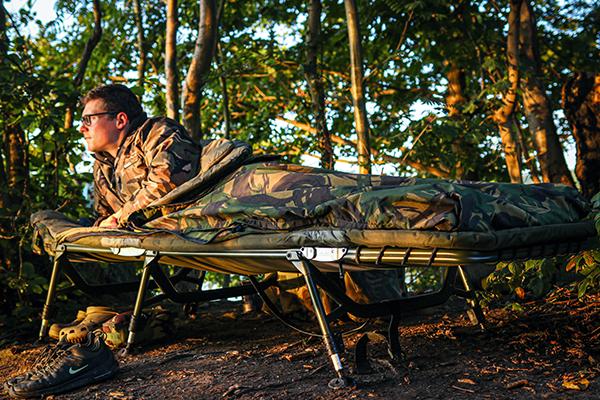 For years and years I've made do on a battered old bedchair, held together with various straps to try and improve the lumbar support, and for a while I thought my makeshift bed wasn't too bad. However, when I started this job I suddenly found myself sleeping on bedchairs day in, day out and it soon took its toll. When I first laid my eyes (and back) on this bedchair at the 2018 Solar trade show, I just knew I needed to try one for myself.
Getting up at first light is always a massive edge and in the past I've always found it a massive struggle due to a restless night's sleep. Since using the C-tech bedchair I can honestly say that I now wake up feeling well rested and ready for the day ahead – it may not quite be like sleeping at home, but it's as good as you're going to get while on the bank with rods out!
So what makes this bed so good? It's built on a lightweight high-tensile aluminium frame with a unique lumbar support system that eliminates the saggy elastic syndrome. Thanks to the use of premium materials, it has retained its strength and structural integrity, ensuring the fabric itself doesn't sag. This creates a firm base on which the exclusive 3D DuraDore air-pocketed matress sits. In essence this effectively creates a pocket-sprung mattress, allowing the bed to follow the contours of your back and provide support where it's needed. If you like a firm, comfortable and supportive bed, then this is certainly worth a look.
High-class finishing touches complete the experience, with a quality machined twin pivot hinge system and spring-loc leg-adjustment mechanisms for true single handed use when reaching over your bed. All in all I've been incredibly impressed ever since I first got it, and I can honestly say I recommend it to anyone I know!
RRP: £309.99
WEBSITE: www.solartackle.co.uk