PB PRODUCTS | Hook Range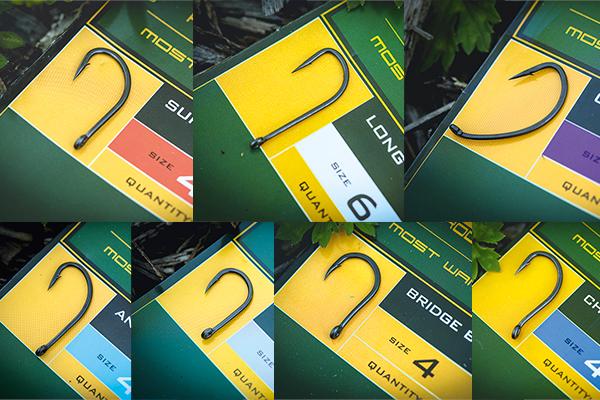 A range of very special hooks from the end-tackle specialist
Super Strong Hook
We are well into spring now and the weed is very much in full growth flow; strong tackle is needed at this time of year especially, the hook being one of the most important. This pattern is extremely strong, and a perfect choice should you need to pull those carp through the weed beds.
Also ideal for snag fishing for the same reasons as above, the pin sharpness of the hook aids fast hooking and the brute strength ensures you bring the carp in with no issues. Looking for a hulk of a hook for all fishing situations, then this pattern is for you.
Long Shank Hook
Everyone loves a longshank, a pattern that has stood the test of time with its outstanding hooking ability. PB has ensured the eye angle that has been formed is just perfect for the hook to quickly turn and grab hold. Finished in a matt smooth grey and with absolute deadly sharpness – this pattern may be a classic yet is very much here to stay!
Curved KD
One of, if not the most popular hook patterns PB has within its range and for good reason. As in the name, this hook was designed with the deadly setup that is the KD rig in mind. The angle in which the hook reaches out from the hook link – looking to impale itself on any potential interest – is as it sounds, completely devastating and one hook you definitely need to have within your armoury.
Anti-Eject Hook
A hook that holds its very own, what's known in the industry as #edges. A short shank and claw-like bend gives this pattern a very unique blueprint, one that gives totally reliable holds with ultimate staying power.
Mega-sharp with a straight point providing instant impact on to feeding carp. Favoured with a flexible rig or combi rig for most anglers but can be used in any rig you have confidence in for the cherry on the top.