Copy Of New 30plus Rod Range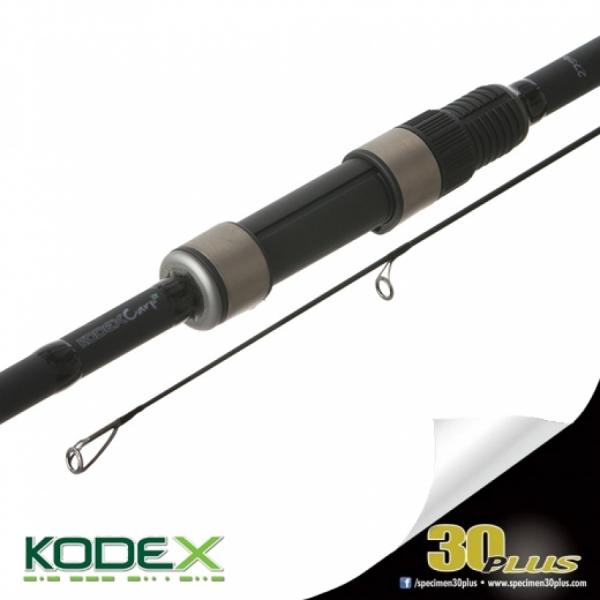 You can find out more about this brilliant rod range on the 30Plus website – www.specimen30plus.com – available now at all good carp/specimen retailers.
Six models make up the brand-new Kodex rod range from 30Plus, which not only incorporates some fantastic features, such as 50mm butt rings and anti-frap tip guides, they also offer incredible value for money. In fact, with RRPs starting from just £59.99, we at Total Carp are sure that you won't find better quality for the money. 


We were very impressed with the three Kodex Carp CX rods. Available in 2.75lb and 3.0lb test curves, as well as a spod model, this 12ft two-piece full-carbon modulas design is made from slim blanks with build features you would only expect on rods that cost well above the £100 mark, including 50mm butt guide, shrink butt grip, F-Grip reel seat and an anti-frap tip guide to prevent snap-offs when going long on the cast. The cosmetics are subtle and understated, giving the look of a custom build. Casting weights vary from 4oz to 6oz and main-line ratings from 18lb to 20lb. RRP is £99.99 each, but shop around and you should be able to pick up these beauties for under £60!


The new Kodex rod range also includes the Stalky CF – a new and updated stalking model featuring lightweight large-diameter guides, a full cork short handle, hook retainer and gunsmoke reel seat. It is a full carbon, compact 9ft two-piece construction, designed for stalking or traveling and it offers absolutely awesome power, so that you can steer carp away from snags when fishing tight bankside swims. It has a 2.75lb test curve, rated to 18lb main lines. RRP is £59.99, but, as if that wasn't already great value for money, shop around a bit and you could find them from as little as £39.99! 


The Specimen SF rod is a brilliant all-rounder for specimen anglers who like to add a little finesse to their fishing, as opposed to simply hauling in their quarry. It is an 11'8" two-piece design with a test range of 1.75 to 2.25lb, making it ideal for tench, bream and barbel as well as carp up to 30lb. It is also a great rod for floater/surface work. Features include a slim cork handle, hook retainer, gunsmoke reel seat and satin black SC guides. The handle is as long as you would find on an abbreviated carp rod – this intentional design allows for better casting accuracy. It is rated to 15lb main lines. RRP is £75.00 but shop around and you should find it for just £54.99.


The Kodex Twin-Tip DF is designed primarily for barbel fishing but it is definitely worth a mention as many dedicated carp anglers like to switch their attention to barbel when the river season opens. It is a 21st century spin on the hugely successful Avon style twin-tip barbel rod. 12ft (3.6m) in the length, this rod has two top sections; a stronger non-spliced top rated to 6oz for handling the largest of feeders, as well as a carrier-top that holds two quivers.You get a choice of two quivers to affix to the carrier-top so really, despite its 'twin tip' name, this superb rod is really a triple tip, giving 2oz, 4oz and 6oz options. It is the ideal blend of flexibility and power. With a main line recommendation of 15lb and hooklength of 12lb, you can rest assured, even if you do happen to hit into the 'fish of a lifetime'. Other features include a cork handle, which is as long as an abbreviated handle on carp rods – this helps with the cast and when playing the fish – as well as Full Radial carbon, F.Factor SC guides, Screw reel seat, laser etched butt detail. RRP for this model is £89.99 but shop around and you could find it for under £70!
Check out the new Kodex CX rods from 30Plus. If you like the look of them enter the competition in the July issue of Total Carp, available on June 27th.