Amateur Carper Vlog 1 - Winter Carp Fishing With Ashley Day (Video)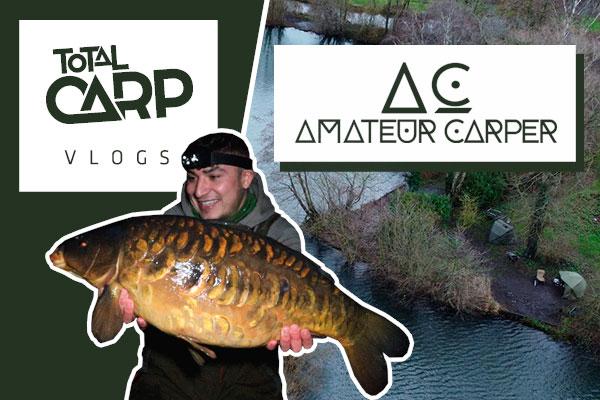 Picking up a fishing rod just over a year ago, in the hardest time of the year to catch, Ashley Day was clueless on how to get started in the sport of angling. That's why he created the Amateur Carper YouTube channel.
Amateur Carper aims to encourage and support new or inexperienced anglers. Without the support from close friends and other anglers, there was a good chance that Ashley would not be fishing today. The goal of Amateur Carper is to continue to get in front of those who need that additional support, inspiring a love for angling, before that vision of becoming an angler is lost.
"On my first fishing trip, I thought it was going to be a walk in the park. I thought that by putting big piles of bait out, I would be reeling in the carp like there is no tomorrow! I didn't know how to cast without sticking a lead up the tree, feel out my features, use distance sticks, tie a rig or most importantly try and find the fish," said Ashley.
"I learned the hard way, and if it weren't for close friends around me to give me the advice I needed then I probably wouldn't be fishing today."
Ashley clearly hit the right target audience with his channel as his first video launched on 8th January 2022 had over 2,000 views in a week. This is the story of how he created an informative video for the newest members of the angling community, and even got a PB while he was at it!
VLOG 1
A week after Christmas, Ashley decided to head down to a local fishery to give the first episode of filming a good go, and to see if he could catch a winter carp after learning so much within the last year. The lake is the Bridge Inn Fishery based in Lenwade, Norfolk, and the site consists of one 5.5 acre lake that holds 200-250 carp. The average is 20lb and some go over the magical 30lb mark. It is accompanied by its pleasure/match lake that holds coarse fish up to 10lb, great for a bite, and is suited for matches. It also has a lovely stretch of the River Wensum flowing through it.
Albeit a very nerving step, with everything behind him it was looking hopeful with so many factors in Ashley's favour. The weather had risen to 13 degrees and the pressure was low; unfortunately, the wind and rain didn't budge but it was setting a very carpy scene!
Upon arriving early on Friday morning, it was clear that many other anglers had done their research and thought the exact same thing. With the lake being so busy it was a race to the swims, which wasn't ideal as the hunt for the fish was put on hold. Ashley set up in peg 7, pulled the rods out and took a delicate approach given it was so busy and there was lots of activity around the lake. Ashley used a Ronnie rig set up with a size 6 claw hook, white citrus pop-up topped off with a PVA stick full of citrus fizz mix and a sprinkle of maggots. Using what he had learnt to his fullest, Ashley ended up pulling in two beautiful carp within that first night of fishing; one weighing in at 18lb 3oz with the second at 17lb 1oz - but what a stunner that one was.
Ashley was up at first light the next morning, and from the get-go it was very busy again with more anglers arriving! With leads flying in around the swim, and disturbance within the area, he made the decision to pull the rods in and walk the lake in the hope to figure out the plan moving forwards. It is common for carp to either move, get put off feeding or in some cases show better indications elsewhere due to the disturbance. As expected, on the hunt for something promising, fish were spotted but unfortunately in places that were already being fished. In this instance, the best thing to do was to keep an eye out for those carpy indications, speak to the anglers around the lake and figure out if any of them were moving onwards later in the day. The search paid off, and several of the anglers who had turned up were only doing the day. With the rods in all day, Ashley was desperate to get fishing again and waited patiently for those swims to become free.
With the daytime anglers either gone or making a move, now was the chance to get to work. Ashley packed everything down, made the move into the 'unfinished swim' and got the rods out onto those spots where fish had been showing as soon as he could. With the darkness setting in fairly quick, it was time to stick a film on and wait for that well-deserved run. Just as 7pm hit, it was time for a video update, and shortly after the recording began that bite came and Ashley caught a live take which turned out to be more than expected.
After a challenging start, it turned out to be something truly incredible. The quick thinking and tactical approach paid off, with the final bite of the trip hauling in a stunning mirror carp, weighing in at a whopping 29lb which was also Ashley's personal best.
Ashley said, "I just couldn't imagine a year later that I would be doing this all on my own - this must be the best fishing trip that I have ever had."
Keep up to date with Ashley's latest Vlogs here at Total Carp, or check out the rest of his content on the Amateur Carper YouTube page.
Follow Total Carp on Facebook, Twitter and Instagram.