Copy Of £30,000 Carp Victory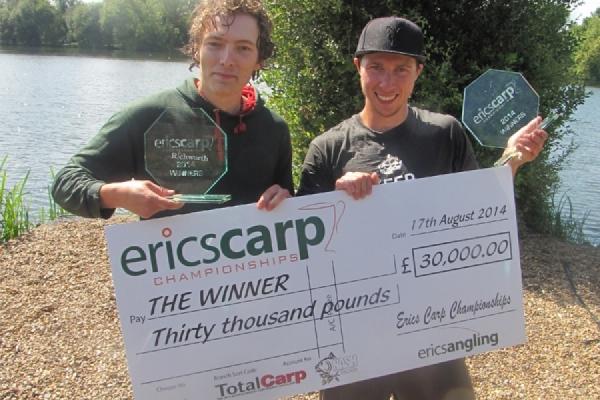 The final of the Erics Carp Championship has taken place with the final 12 qualifying pairs competing for the £30,000 cash prize. The formidable field of anglers was a real who's who of match carp angling and it was clear at the draw that the result would not be clear cut. With carp spread out among the bays that make up the 25 acres of Farlows Lake, it was clear that the winning pair would be those who kept disturbance to a minimum and kept the fish feeding in their area for the duration of the 48hr match.
When the starting hooter sounded, a barrage of baited rigs made it out to the spots and everyone waited with anticipation for the first bite of the match. It was Harry Charrington and Alexei Bygrave who got off the mark quickly with two fish in quick succession, and, within a few hours, they were over 100lb ahead. They maintained their lead right up to the final whistle with a great display of angling, breaking the Farlows match record in the process with 19 fish for 398lb 14oz.
This completed a set of three back-to-back match records for Harry and Alexei on their way to the final. The pair were also part of team Norfolk & Chance in the team event, helping them to victory. Fellow Norfolk & Chance team members Glen Maulkerson and Lee Tompkins took second place, with Cliff Kemp and Tim Fromant sealing the final third place podium spot, making it a one-two-three finish for the team.
For details of next year's event visit
www.ericscarpchampionships.co.uk
and for the full story of the match check out the October issue of Total Carp magazine.