Carp Spirit's Magnum 100 Bivvy!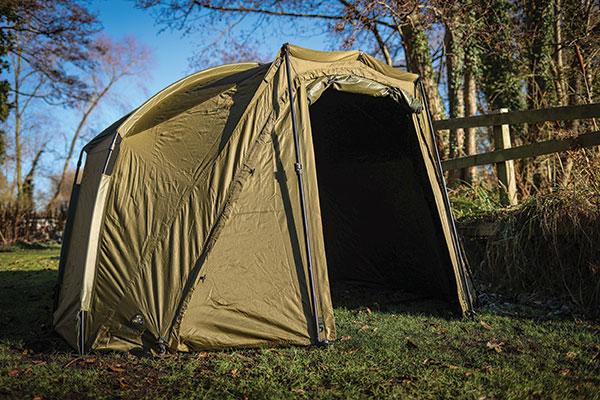 The newest addition to ever growing impressive Carp Spirit bivvy and shelter range is the Magnum 100, and in our opinion we feel it is their best looking shelter yet, and what's more it is feature packed and set to be a sure fire favourite among carpers.
Easy to erect and pack away the Magnum 100 benefits from a two-piece 360-degree centre block that simply allows you to splay the eight securing arms and lock into place for a strong and speedy set-up. The lightweight aluminium frame offers individual leg tension bungees and moulded elbow joints, for durability and reliability in even the harshest of weather fronts, which is perfect for fishing all through the year, giving extra piece of mind in both the autumn and winter months when conditions can be less than favourable.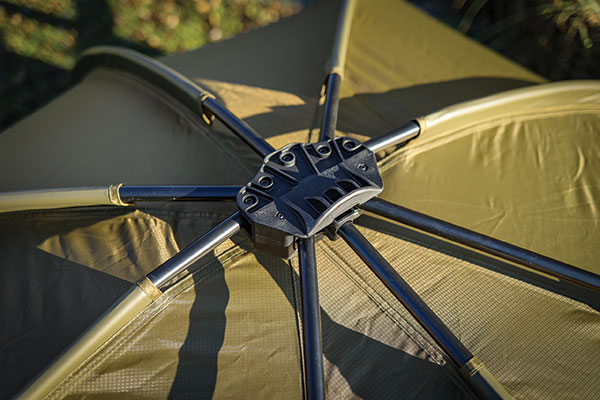 Constructed from Carp Spirit's own high-performance Hydro-Skin material that offers an incredible 20,000mm hydrostatic head rating, which is essential when fishing in rain storms and large deluges of water, but another aspect of the material we love is the blackout qualities, ensuring that even in the summer months when the sun is at its strongest and brightest you can rest assured you will get ample hours sleep if you do not like waking up with the morning sunrise.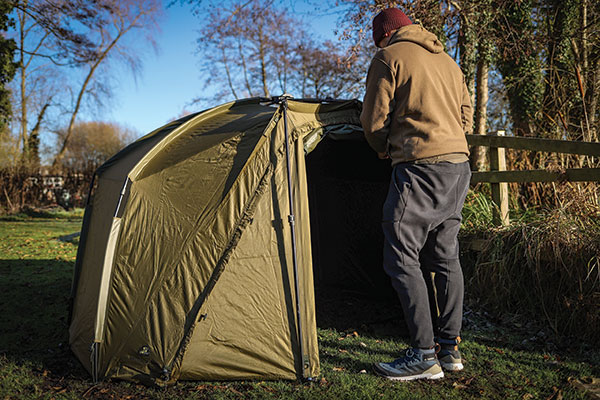 When looking at the bivvy itself, you will be quick to notice that the shelter not only looks awesome, but the back of the Magnum 100 benefits from a flat profile. This enables the angler to have their bedchair situated tighter against the rear of the shelter, providing more useable floor space, perfect for cooking in the bivvy and again keeping you even further back sheltered from the wind, rain and weather. The rear also benefits from having two large air vents, which are a blessing in the hot weather and provide ample air flow, keeping you cooler than before, and again allowing you to cook safely inside, ensuring fumes and even condensation can escape.
The height adjustable splay frame design gives a good amount of headroom, which is perfect for those long winter sessions when sitting outside just isn't an option; instead you can now sit inside protected but comfortable for longer periods of your session.
The front of the shelter not only comes complete with a zip off front panel, but that is also complete with a fully adjustable mosquito mesh and solid door option, which can be fished in a multitude of variations including the ever popular 'letterbox style' The front panel can also be rolled and clipped back should you wish to open the front of the shelter up but still keep the panel to hand should the weather move in, but also sold separately is a Camo mosquito mesh full zip front panel. Now this not only looks the part but provides a welcome added layer of protection from creepy crawlies and weather, which is ideal for quick showers when wanting to travel light but cutting down the weight when compared to the full system.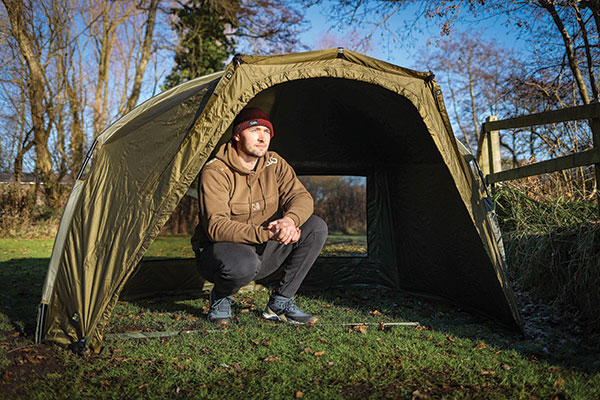 As you would expect there are also Velcro rod straps, and the Magnum comes complete with an oversized heavy duty carry bag, heavy duty groundsheet, storm poles and bivvy pegs.
Weighing in at just 7.5kg for the shelter, we reckon the Magnum 100 is a fantastic option for anglers who either wish to travel light or equally for the guys wanting to fit into compact swims, and fish 'brolly' style but with far more comfort, headroom and functionality.

MAGNUM 100 BIVVY
RRP £369.99
WWW.CARPSPIRIT.COM