CARP SPIRIT | INOX Rod Pod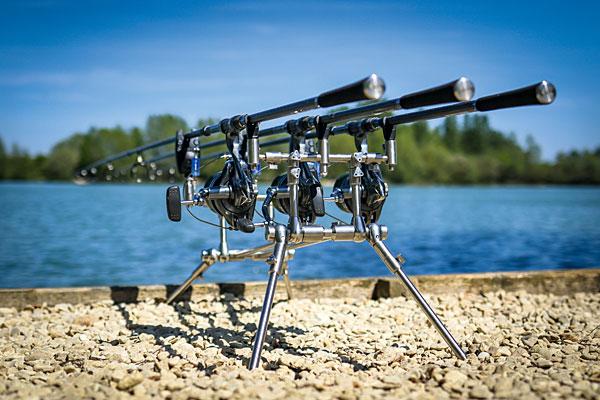 Every angler has their own preference when it comes to the choice of banksticks or rod pod. Anglers who use sticks always have a situation now and again where the terrain has a huge effect on the position of them, whereas with a pod you can almost guarantee no matter what the terrain you have, your rods are level and angled to perfection.
Machined from ultra-high grade 300 series stainless steel and designed with a completely fresh, open mind, you can be sure this pod is packed full of features and looks great while doing so.
Taking you into the features of this pod, we have already mentioned terrain and this can cope with any manner of surface or slopes. The legs can be securely locked into place at a 45-degree angle or even at a lower position of 22.5 degrees, allowing the pod to sit quite a bit lower and the rods fished closer to the ground.
For those who have already purchased the quality of Carp Spirit and own their buzz bars, you can purchase the setup as the base only, allowing you to fix your current buzz bars to it, thus saving loyal customers from purchasing an element twice. Those anglers who have not yet invested – but should look to this awesome quality pod if you're in the market for one – the system can be purchased in full as a 3/4 rod pod, which includes everything you need to simply attach your alarms and butt grips and hit the bank.
The INOX Pod can be rapidly set up due to the unique spring lock bar system and is also extremely light. It folds down to a compact size as well, which ticks all the boxes for the mobile angler too.
If you like the high life, long banksticks can be used at the front for fishing 'rod tips high', which is more common on the larger European waters, making this pod a super choice for any angler who does all types of carp fishing – it's simply so versatile.
To complete the feature detail, pretty much all connections are quick-release and adjustable and the screw elements are no loss Tri-lobe thumbscrews – they really have thought of it all when designing this pod! If you're in the market for a new pod, get in the "Carp Spirit"!
RRP: £299.99 to £349.99
WEBSITE: www.carpspirit.com