CARP SPIRIT | Air-Line Bedchair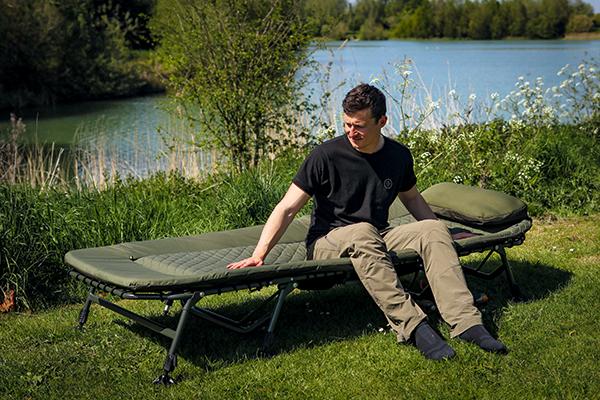 Just when you think the ultimate in bedchair quality has been reached another comes along and surpasses our expectations! Of course, bedchair comfort is personal to the individual; some prefer to take the lightest bedchair they can with them when fishing while sacrificing a little comfort whereas others like to make their fishing trips feel like home from home. The new Air-Line Bedchair from Carp Spirit may just fit into the latter.
So where does all of the comfort originate from with the new addition to the range? Well, it's a combination of features, although the mattress is an integral player. Laying on top of the aluminium frame is a self-inflating mattress, which fills with air through its very own self-inflating valve – no need to blow this one up by mouth!
Outside of fishing air mattresses have proven to be a popular choice in various fields and interestingly the use of a mattress filled with air rather than foam insulates from cold and moisture far better. Without getting too scientific it is simply the accumulated air inside of the mattress that is responsible for doing this.
The supplied pillow has been constructed with neoprene and while it is removable it is perhaps unlikely the user would do so unless for cleaning as the comfort is superior.
Even the feet on the Air-Line Bedchair help towards getting a good night's sleep and rotate at every possible angle to rest on any surface out there. These are large enough to sit on very soft ground without sinking too, thanks to their large size. A mud protector has also been supplied, which is most useful for when heavy and persistent rain falls – no more will boots need to be removed to lay down on the chair for a short while.
Now this bedchair is far from the lightest on the market as comfort still comes at a price in terms of weight, with the lightest of the two models weighing in at 10.7kg. The Standard Air-Line Bedchair comes fitted with six legs and is capable of accommodating 150kg of weight. For the larger angler or for somebody who wants plenty of room when sleeping on the bank there is an XL version too. This weighs 12.8kg and will hold 200kg of weight.
Storage of the bedchair has been made easy too, with the use of an integrated strap that holds the system closed by itself or with a sleeping bag ready for its next use.
RRP: £249.99 / £284.99
WEBSITE: WWW.CARPSPIRIT.COM