WYCHWOOD | Tactical Compact Bivvy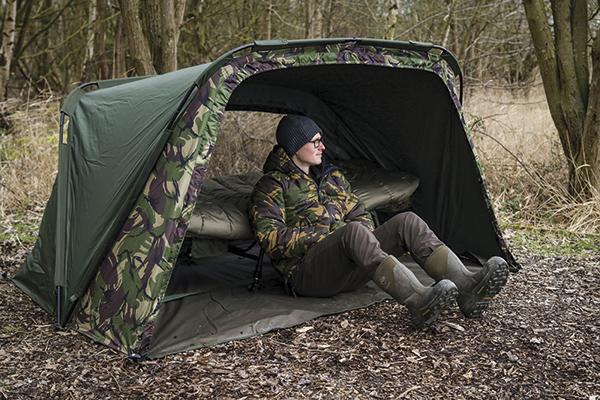 Some of the night fishing equipment we take with us to sleep in comfort during the hours of darkness can be some of the heaviest items we own. Heavy kit is generally more acceptable for longer sessions, however for the mobile angler who fishes regular overnight sessions it pays to have lightweight kit with a small pack-down size. Wychwood's Tactical Compact Bivvy ticks both of these boxes by substantially cutting down unwanted bulk and weight, reading a mere 4kg on the scales for the bivvy itself, plus a further 2kg for the full set of pegs and heavy duty groundsheet!
Being so lightweight this particular bivvy lends itself to being carried should it not be possible to use a barrow to transport your setup. It may also surprise you that the package in question weighs exactly the same as Wychwood's Tactical Brolly without the use of any front or groundsheet. The Bivvy also uses a high quality and durable 10,000mm HH ripstop material whereas the brolly uses a lighter 5,000mm. Do not be mistaken however, the Tactical Compact Bivvy is just as versatile for day session fishing as it is for night sessions as the waterproof door can be easily removed or rolled up providing a full view of the lake.
Set-up of the bivvy takes a matter of minutes and with a little practice it can be erected extremely fast. Being a two-rib shelter there is still plenty of support and stability to be had even when fishing in adverse conditions. There is also more than sufficient space to place all of the essential items needed for a one or two-night session with dimensions once erect of 2.4m width, 1.65m depth. This will see any of Wychwood's Tactical X Flatbeds fit inside comfortably with a little room at each end, although the vast majority of bedchairs on the market will not struggle either.
The flat back design means you can also push it right to the back of the bivvy where you can enjoy additional light and airflow from a huge mozzi-mesh vent. At 1.25m high, it has a very low profile, so you may need to take this into account if you're a man-mountain who likes a bit of height!
As well as being incredibly lightweight the pack-down size of the Tactical Compact Bivvy is just as impressive. Once dismantled and placed inside the heavy duty carry bag (which is thankfully an easy fit!) the bivvy measures in at 1.2m in length and 18cm in width as well as depth. Not only is this great for those who are tight on storage space at home but you can also throw this into the boot of the car or back of the van until needed. That means one less thing to forget when rushing to get to a pre-baited area or striving to arrive at the gates on opening time!
RRP: £219.99
WEBSITE: www.wychwoodcarp.co.uk