Trakker Tempest Brolly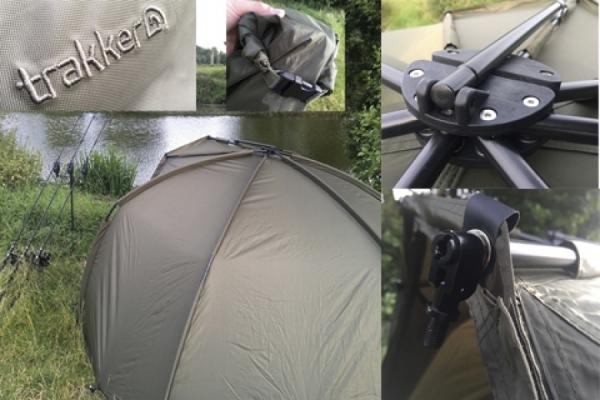 Albeit the cheaper model in the Tempest family, don't let that fool you into thinking this is anything like not worthy of the name.
With the same ingenious frame design, but stripped back and with a nylon material instead of breathable Aquatexx, the Tempest brolly will tick many boxes for many anglers.

I've increasingly favoured brollies in recent years, mostly since the advancement in space-saving systems inside, but the Tempest takes this to another stage altogether. Because all of the mechanics are on the outside, internal space is kept at an absolute maximum.

Sitting in one of these on even the taller recliner-type chairs is no problem whatsoever and, on a bedchair it's no different to being in the bivvy version.

Because there is no front, the need for the most advanced materials is not necessary. Breathable materials when there is an open front are pretty much surplus to requirements. What this does promise, though, is a material as waterproof as you'll ever need it to be.

So, back to that frame system and it really couldn't be much simpler to erect. Okay, it's not exactly a brolly in the traditional sense, but it goes up just as quickly as any brolly I have ever used and there is no central pole to have to remove once it's up (or screw back in when it comes to packing away).

I promise you, after two attempts to get it right, I could set this up in seconds, pegged out and ready to rock.

Once up, you can have it in its intended position or the Tempest can be pegged out wider and lower to suit the conditions. There really isn't much more you could ask of it, except if, like me, you like a groundsheet, but they are available separately, so you can have one if you wish. (MC)

£219.99