THINKING ANGLERS | Compact Tackle Pouch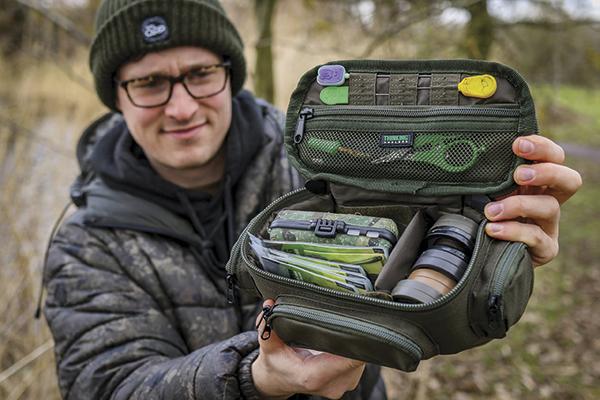 Thinking Anglers' luggage range has proven to be incredibly popular in modern carping, where an angler is looking for lightweight and efficient storage solutions. Whether it's rucksacks, pouches, rod sleeves or everything in between it is fair to say the range is vast but certainly not superfluous. When we heard more items where dropping into the range we were keen to see what else Thinking Anglers was going to bring to the table!
As is a common theme in the range, 'compact' is the name of the game, but without compromise on features and functionality. Measuring 26cm long x 15cm wide x 8cm deep, the Tackle Pouch fits perfectly in the top of the matching Thinking Anglers Rucksack, keeping it to hand. The main compartment is 20cm long x 11cm wide and 6cm deep and can be customised with the handy movable Velcro divider supplied. There is also a mesh inner pocket to help keep certain items contained and elasticated loops for holding rig tools and needles. This is situated at the top of the pouch to ensure they are kept safe and eliminate the risk of breakages.
The two end external pockets are of course smaller and would suit items such as spare leads, finger stalls, hook boxes etc while the front pocket is long and narrow, suited to hook sharpening kits, spare bobbins or further hook packets. Each of the pockets is fitted with durable zips and the main zipper has bespoke TA zip pullers, for a touch of class!
The same proven 600D material found throughout the Camfleck range has been used throughout construction and can be brought in both an Olive and Camfleck coloration. It also features a waterproof wipe-clean base, which is very handy for life on the bank.
RRP: £18.99
WEBSITE: www.thinkinganglers.com