SHIMANO | Tactical/Trench Buzzer Bar Bags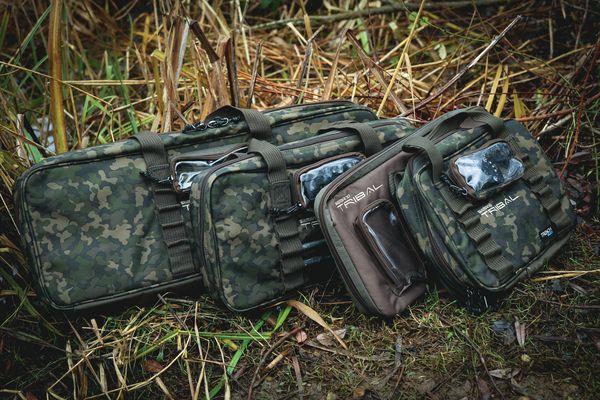 There is absolutely no reason at all why we shouldn't have our alarms, indicators and rod supports ready to go at a moment's notice once we are lakeside! Especially as there are so many luggage options to make good use of, in fact there can actually be too much choice but Shimano has a number of buzzer bar bags that may well be right up your street! There are three different sized bags from the Trench line, including 2-Rod, 3-Rod and 4-Rod options. Each bag has been given the Tri Cam pattern treatment as well as big chunky Duralast zips, which are sure to see plenty of action for many seasons ahead.
In hand you are greeted with a number of loops not only on the front but also on the back of each buzzer bar bag. These exceptionally strong loops are ideal for storing a number of banksticks and will hold them firmly and securely during transport. There is also the option to use luggage items from the Shimano range, which will clip on to said loops. Featured on the top of the face of the Trench Buzzer Bar Bags is a clear pouch that has a number of uses, the intended one being to store the receiver to complement the alarms inside the bag, although you can also store other items such as leads or small items for safe keeping until you reach the lake or intend moving swims and on to the fish!
Inside the bag you will find Shimano has provided plenty of heavy padding to protect any alarm stored inside. Buzzers are secured by Velcro straps with a divider placed in between the butt rests and buzzers, which is of course padded too. However, there is also a zipped section where indicators can be kept. As these bags are designed to be used on the barrow or even clipped on to a rucksack ,a clever little piece of design is evident whereby the bag will open to roughly 90 degrees. Therefore this way items are less likely to fall out on to the floor.
The Shimano Tactical Buzzer Bar Bag is a far more barebones bag but still provides plenty of protection for your cherished buzzers. Much like the Trench the Tactical also features a clear plastic pouch on the front of the bag to house a receiver, small tackle items or indicators. The buzzer bar bag can be accessed from the main central zipper and there is once again an internal divider to separate buzzers from rear buzz bars. Measuring in at 450mm long, 220mm in height and 40mm wide there is plenty of space to carry all the indication you ever need for a short or long session.
RRP: £24.99 to £38.99
WEBSITE: www.fish.shimano-eu.com