SHIMANO | Camera Bags (Video)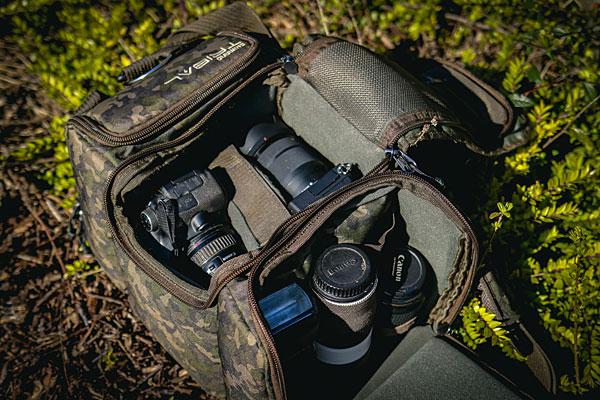 With the rise of budding photographers out on the bank, Shimano ensure your expensive camera kit is protected!
Trench Deluxe Camera Bag
RRP: £79.99
The larger, more feature-packed of the two, the Trench Deluxe Camera Bag is an all-encompassing camera kit bag for anglers who have multiple cameras and accessories. The extreme internal padding will ensure your equipment comes to no harm whilst being out and about on the bank.
A large middle compartment has ample room for two DSLR camera bodies separated by generously padded dividers. If you only use one camera this would also be the perfect place to store other valuable electronics such as head torches, bivvy lights power packs and so on. The main compartment also has is an internal mesh pocket for storing smaller items such as memory cards and spare batteries. Two easy-access, fold-flat side pockets feature 12 internal elasticated loops for securing 6 full-length lenses and larger accessories such as flash guns (or many more smaller lenses).
Its rectangular design fits perfectly into the Trench barrow, but also makes the bag very barrow-friendly in general. It also benefits from two carry handles positioned on either side, as well as being compatible with the heavily-padded Aero Quiver strap system. The top watertight storm flap benefits from two compression straps allowing you to safely strap your tripod to the top, keeping everything you need ready to go in one transportable luggage solution. Dimensions are 440 X 260 X 275mm.
Sync Camera Case
RRP: £26.99
A smaller, more compact case for those who only take minimal camera equipment when they head out on the bank. The main body of the bag is large enough to fit a camera body complete with lens and also benefits from the same internal mesh compartment to secure additional memory cards and smaller accessories. The bottom of the bag is a spacious accessories compartment, perfect for safely housing accessories such as spare batteries, a flash gun or smaller pancake lenses.
With a padded detachable shoulder strap the Sync camera case is an easily transportable item of protective luggage with extreme internal padding. The dimensions mean it fits perfectly into the larger Trench luggage as part of their OCD (organised compact design) system.
WEBSITE: www.fish.shimano-eu.com
To find out more about the Shimano camera bags, watch the video below.