RIDGEMONKEY | RM-Tec Orbit Double Tapered Mono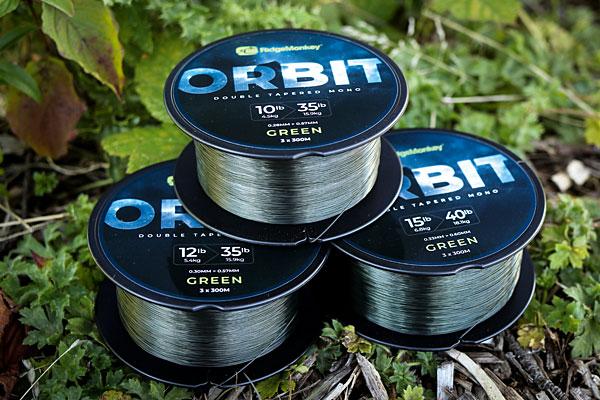 Now, RidgeMonkey weren't the first to bring out tapered mainlines and as with all mainlines on the market, there is choice out there to suit everyone. However, having used the RM-TEC ORBIT since its release, I must say that I've been really impressed by this stuff! So, read on and I'll tell you why!
Tapered mainlines are primarily designed for distance fishing and usually overcome leader bans due to having no knot between the thicker and thinner line. However, these also provide many other benefits including extreme abrasion resistance and anti-tangle properties. The lack of a knot makes the tapered lines safer than using leaders, reducing casting friction, frap ups and avoids a catch point for weed to collect.
So what do you actually get for your money? For a tad under forty quid you get a spool containing 3x300m lengths of mainline which is tapered at each end. This means that you can spool all three reels up in one go, then when it comes to respooling, simply reverse the line onto another spool and you are good to go once again. I found the 300m spool of 15lb Orbit to perfectly fill my Daiwa Emblem 45 reels.
Casting performance with these lines has been fantastic as they take the full force of the cast, meaning you don't have to hold back at all when going for the big one! Furthermore, being pre-stretched I've found the line to be really low stretch and therefore give good feedback on the cast. I find this significantly improves casting performance, both in terms of distance and accuracy, as well as helping when feeling the lead down at range. The line is also really smooth so casts a dream and sinks well too. All-in-all, it's an excellent fishing line for almost all occasions.
I chose to use the 15lb RM-TEC Orbit as a general use fishing line, offering great strength and abrasion resistance in the main body, with the added advantage of having the thicker leader material which I like to use whenever I can. By adding blobs of putty up the line you can do away with leadcore leaders altogether, and the thicker diameter helps reduce tangles when zigging too.
If out and out casting was required and the circumstances permitted, I would tend to use a braided leader. However, if these weren't permitted or I couldn't use one safely, then I certainly wouldn't hesitate about spooling up with the 12lb or even 10lb Orbit.
RRP: £39.99
WEBSITE: www.ridgemonkey.co.uk
Matt Towends' Verdict: Long range fishing with mono? RidgeMonkey have the answer...