Old Mill Euphoria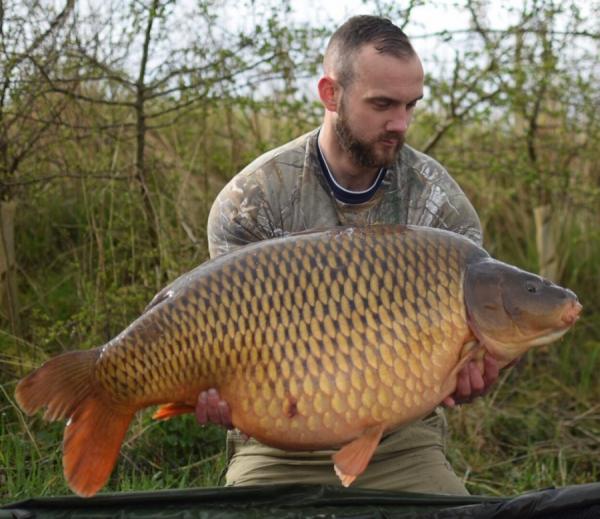 Alex Jaques from Bradford shares the story of his capture of a monster Lincolnshire carp.
I keep a keen eye on the weather and air pressure on an app on my phone and after seeing a drop in pressure was due, I managed to wangle a couple of days off work at short notice and excitedly booked myself on to the Birch Lake at Old Mill Lakes near Market Rasen.
I arrived just after 7am and drove down the familiar road and through the grand automatic gates to the car park. I noticed the wind felt a little cold and seemed to be blowing in from the northeast so after a quick lap around the lake, I decided on the Sands swim as it seemed a little bit more sheltered from the cold wind than the rest of the lake and this swim was the first place to catch the sun.
I set up and found a likely looking spot for my right hand rod just off a reed bed over a hard spot, while the left hand rod was dispatched to a popular known spot in open water. I didn't put a third rod out straightaway as I didn't want to overpressure the area and I felt doing this would allow fish to pass through into my swim with less awareness that I was there.
The following 36 hours of my session went without much event and the lake seemed quiet. Then, out of the blue, I heard fellow angler Jake Bannister celebrating in the next swim down – I guessed he had bagged himself a lump from the sounds of his excitement and he certainly had, as the result was a 46lb mirror called Powers.
This gave me a renewed confidence going into my final 12 hours' fishing so I recast my rods and picked a spot at longer range, targeting the channel behind the island where the 46lb specimen was picked up and feeding regularly with a throwing stick.
The night dropped cold and passed without disturbance and I awoke in the morning feeling slightly deflated and admittedly a little defeated. With just over four hours remaining and being tired, cold, hungry and full of flu I contemplated an early pack-up, but the warmth of the sleeping bag was a little too tempting and with that I decided to reset my alarm for 9:30am and drifted off, trying to think of a time when I had picked up a fish right at the death before leaving a venue.
Suddenly I was awoken by the very welcome sound of my middle Delkim bleeping into life. I looked over to the middle rod, which was slowly hooping round to the right with the bobbin tight against the blank. I raced over to the rod, missing my crocs as I went, so barefoot it was. I picked up the rod and immediately felt a large heavy resistance on the end; it was hard to judge just how big as the line had picked up several large streamers of reed that had floated across the lake. The fish tried to kite right behind the island in front of me so I reeled as quickly as I dared to head it off before it had chance to get the run on me. A bit of reverse side strain and I had tricked it into kiting left back into open water, and with a few more turns of the reel handle I knew I had it in the relative safety of open water.
My net was a little out of reach so I shouted over to regular Scott Thompson who was in the swim to my left and he very kindly dashed round to do the honours for me. I slowly backed up, inching the fish towards the net and with a couple of last wallows it was over the net cord. Scott slid the net under and scooped it at first attempt, much to my relief.
I couldn't believe what was sitting in the net in front me. We peered into it and Scott told me he thought it was "the big common". I gave him a big high five and began to celebrate, we couldn't be sure, but either way it was a massive fish.
Scott very kindly prepared the mat and set up the scales on the tripod, zeroed them in and with that we lifted the giant common carp on to the mat – even with two of us carrying the fish in the sling it felt immense. Scott told me there was no doubting it was in fact the big common and this was then confirmed as we hoisted the sling onto the trusty Rubens and the dial spun round to 51lb 2oz.
I had done it, I had captured my target and bagged the ultimate prize. I was in total disbelief, a UK 50lb and the jewel of the lake right at death, what a massive result and a memory that will certainly last me a lifetime. I felt completely honoured and privileged to have caught this very special fish and I'm already planning my next visit.
The fish fell to a Trent Baits shrimp bottom bait topped with a white shrimp pop-up fished on a slip-d rig incorporating a 7in ESP tungsten loaded hooklength and size 4 wide gape.
I would like to add a very special thanks to Chris Marler at Old Mill for running what can only be described as a phenomenal fishery with lakes that offer something for everyone. Also the guys at Trent Bait who continue to supply such quality bait for me, thanks.