Nash Groundhog Sf Brolly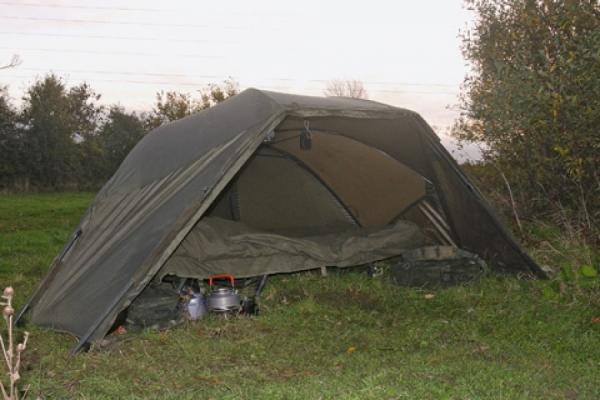 It was actually about four months ago that I was asked to take out the Groundhog SF and test it over time. As a devout brolly user, Marc Coulson thought me the best-placed member of the team to get out and put it through its paces.
I was happy with my traditional brolly previously and wondered how much better this could be, but I have been hugely impressed by it so far. The SF stands for Space Frame, which allows increased headroom inside. This has been the biggest improvement against any brollies that I have experienced previously. The ability to sit on my bedchair and watch the water without getting a crick in my neck, or having to hunch over, has been great. While in this position, the coverage of the Groundhog is also significantly better than a traditional brolly and, so far, I have never felt at risk of getting wet, no matter what the conditions. Of course, the addition of the infill panel can completely alleviate any problems here, too, but even with the open front there is plenty of coverage.
I use a 'wide boy' bedchair and it fits inside nicely without pushing the material of the brolly outwards, creating a contact point that can also be a potential area for condensation build-up.
I've been out under the Groundhog in all sorts of conditions, including the October storm last year when I was under it for only the third or fourth time, and so far it's stood up to everything thrown at it.
Dan Murrell's verdict…
So much better than a traditional brolly (4.5/5)
RRP:
£307.99

FOR MORE DETAILS GO TO:
www.nashtackle.co.uk