July Issue Out Now!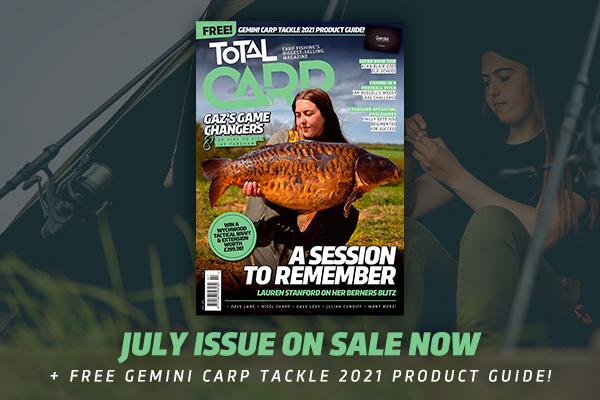 We've really been looking forward to Gaz Fareham putting together his Eureka Moments and it certainly didn't disappoint! Some top tips and very wise words on those pages, which can help make you a better, and more contented, carp angler.
There are plenty more wise words from other big names in the game too; Laney gets going on the month of July, Ian Chillcott talks Standard Operating Procedures and you can find some great tips for fishing in weed from Julian Cundiff and Ian Russell in their respective features.
Women anglers are something we want to see more of, especially when they are catching fish like Lauren Stanford's incredible Res fully or those beautiful, old, jet-black commons that Lauren Richardson has been getting amongst. These are two ladies who have certainly got their heads screwed on when it comes to catching carp, so we expect to see more from them in the future!
There's even a little something for the old-skool purists amongst you in the form of Alan Blair's Retro Road Trip which reveals just how much tackle has moved on over the years since the "good old days". While it was able to catch carp, I've got to say that I'm hugely thankful for modern day tackle and tactics!
All of this and much, much more to make sure your July is one to remember!
Whats Hot…
BERNERS' HAUL
Lauren Stanford reflects on her incredible hit from the Res at Berners Hall, topped by this incredible looking fully, which adorns this month's cover! She certainly knows a thing or two about the venue, so if you're planning on heading there any time soon it's well worth a read!
LIKE A SCENE FROM REDMIRE
Alan Blair takes a trip back in time in this month's Retro Road Trip! While out Road Tripping, Alan was given the opportunity to use a myriad of vintage tackle items, some of which were real works of art and others that should have been left in the Yates' wicker basket never to see the light of day again! It certainly made a difference from the usual Scope life, but Alan's relentless enthusiasm never tires!
EUREKA!
Gaz Fareham reflects on eight of his keys to success, whether that's in the pursuit of catching carp, or just being happy and content while out on the bank. Whether it's tactical intricacies or simply the raw nature of being on a huge expanse of water on the Continent, Gaz certainly knows a thing or two about all forms of carp fishing.